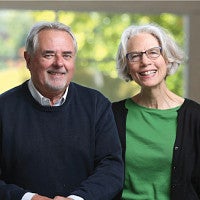 The overall objective of the PhD Program is to develop scholars who will be productive researchers and effective teachers in their chosen fields at leading colleges and universities throughout the world. Students must demonstrate the ability to create knowledge through original research in their areas of specialization. With the help of programs like the Robin and Roger Best Fund for Doctoral Research and Teaching, qualifying PhD students receive funds for career-launching collaborative research to support them in these efforts.
A $1 million endowment, the Robin and Roger Best Fund for Doctoral Research and Teaching, distributes approximately $35,000 to PhD students each year for research, publishing, and great teaching. PhD students can apply for up to $500 per year for costs associated with their research, such as travel, software, data, and conferences. But the rewards don't stop there. Present a paper at a conference? Receive $500 or $1,000 (selected major conferences qualify for the higher award). Submit an article for the first time to a peer-reviewed journal? That's $1,000. If it's accepted, that's another $1,000 or $1,500. The incentives also apply to articles coauthored with faculty members, who share the awards with their students.
The endowment also funds two annual $2,500 awards for doctoral students who demonstrate excellence in teaching. To celebrate all these teaching and research accomplishments, the Bests' gift supports an annual event in which award recipients are honored by faculty members and fellow graduate students.
Travel Support
Funds are also available to PhD students from the PhD program and individual departments to support travel to academic conferences and consortia. Funding can cover conference fees, professional memberships if required, accommodations, and direct travel (subject to approval by the PhD Program Director and department heads). Total annual travel funding per student ranges from $1,000 to $2,000.
Graduate Employment
In addition to research support, all PhD students receive a tuition waiver and additional benefits as part of their graduate employment (GE) position.