Sports Product Management
We Teach the Business of Product Creation
The University of Oregon partnered with the sports and outdoor product industry's best to create a Master of Science in Sports Product Management. Our mission is to build worldwide leaders in the sports product industry by offering hands-on opportunities to build products, networking with sports and outdoor industry leaders, and teaching through the lenses of global business, sustainability, and innovation.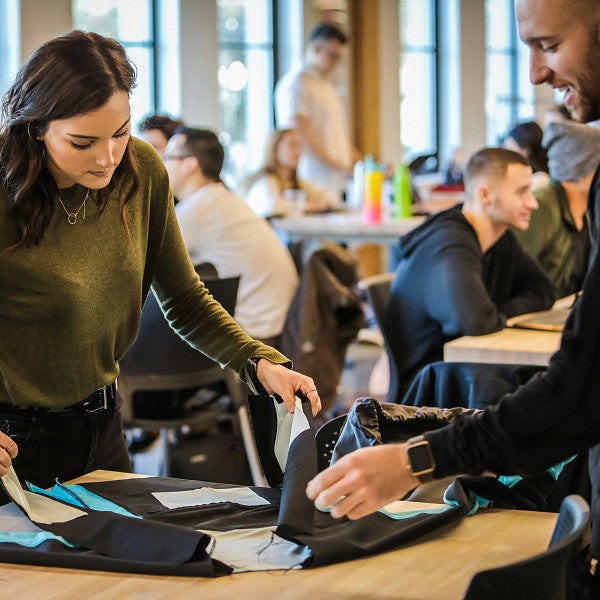 How to Apply
The Master of Science in Sports Product Management is available as an immersive, 18-month program onsite in Portland for emerging talent and an innovative, 21-month online program for working professionals.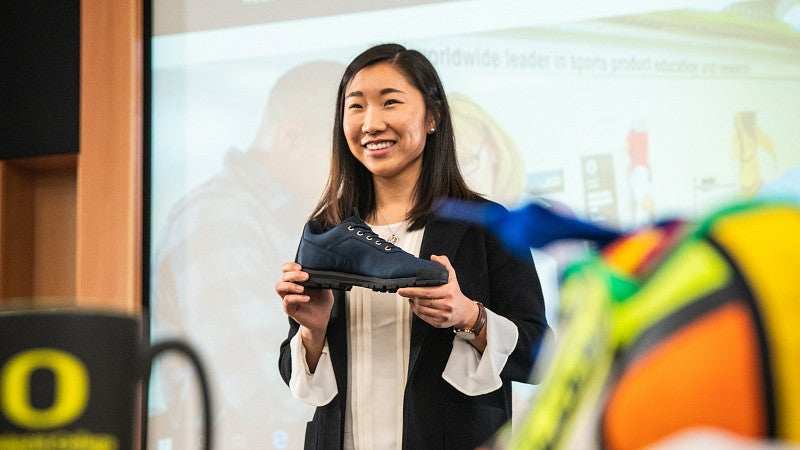 Master's Program Options
One master's degree, two ways. 
A Portland Home Base With a Global Reach
Portland, Oregon, is an alpha cluster in the sports and outdoor product industry. Of the more than 800 sports product related companies in Oregon, 90 percent are located in the greater Portland area, which is home to such companies as Nike, adidas, Columbia Sportswear, KEEN, Icebreaker, and more.
Join the Flock
Find out how studying business here can take you most anywhere you want to go.
Connect with an Admissions Officer
Leaders of Today Shaping Leaders of Tomorrow
Industry leaders have been involved in shaping the Sports Product Management program from its creation, including developing and teaching the curriculum, mentoring students, and helping steer the program by being a part of the Sports Product Industry Advisory Board.
The KEEN product team explains the footwear product creation process.
The Nike product team explains how they create product for athletes like skateboarding great Paul Rodriguez.
The adidas Smart Ball product team gives the inside scoop on the creation process behind their innovative ball technology.
The team at Handful describes their creation process.
What's it like to be a Duck?
Find out what it's like to be a Sports Product Management student at the Lundquist College by attending an info session or talking with a current student. Learn about our master's program options, hands-on learning opportunities, industry connections, and more.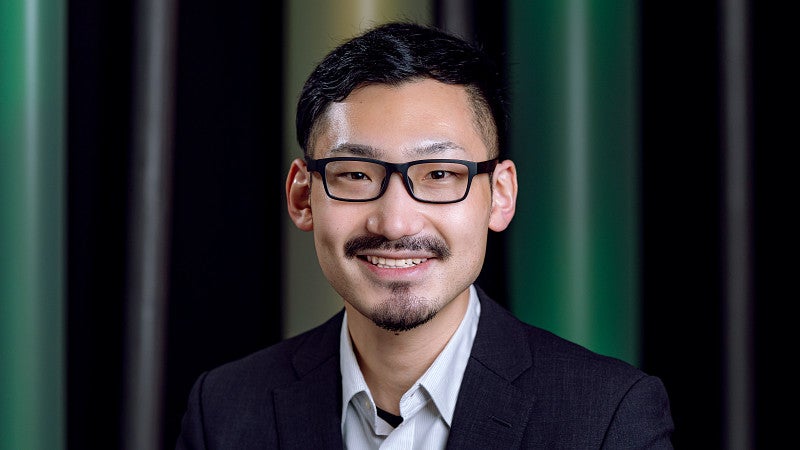 Yoshimi Saito
Class of 2022
"I want to bring solutions to ordinary players so that they can be better versions of themselves in an athletic environment."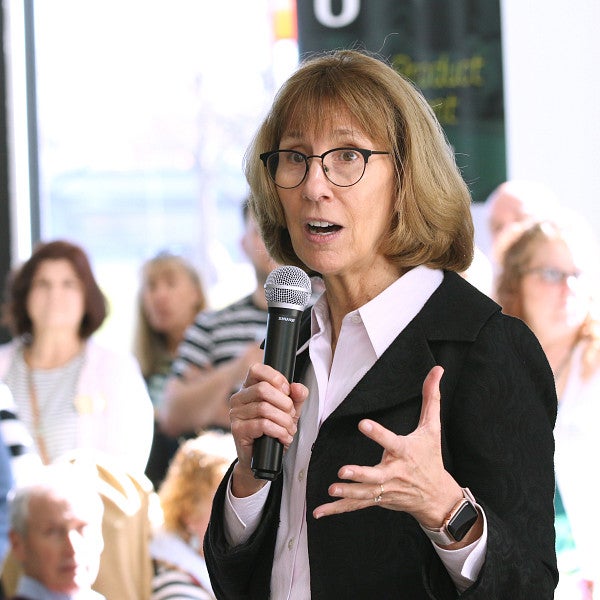 SPM Faculty
Ellen Schmidt-Devlin
Executive Director, Portland Programs | Cofounder and Executive Director, Sports Product Management Program
"What I found in my career is that I would have to go first. I would have to be brave enough, have enough courage to say, 'Okay, this may not work out, but if it does work out, it will work out not just for me, but for many other women.'"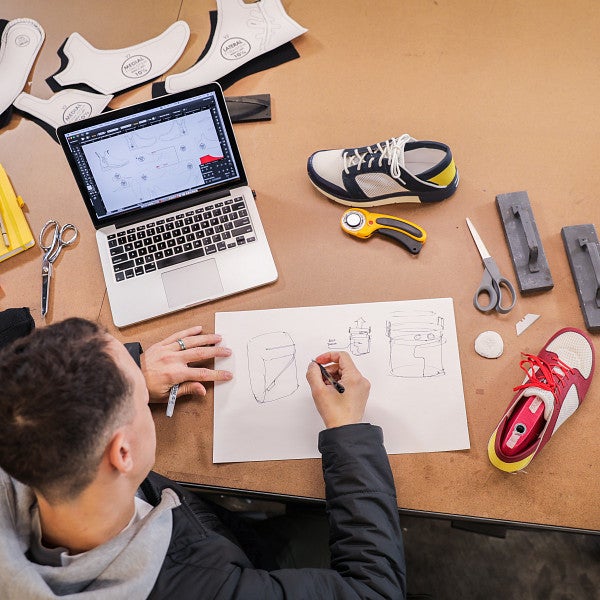 Hands-On Learning
There is no substitute for making it yourself. The Sports Product Management program offers an endless number of hands-on learning opportunities including using specialized equipment in the SPM Innovation Lab, participating in internships, trips, and workshops, collaborating and networking with the cohort and industry professionals, and more.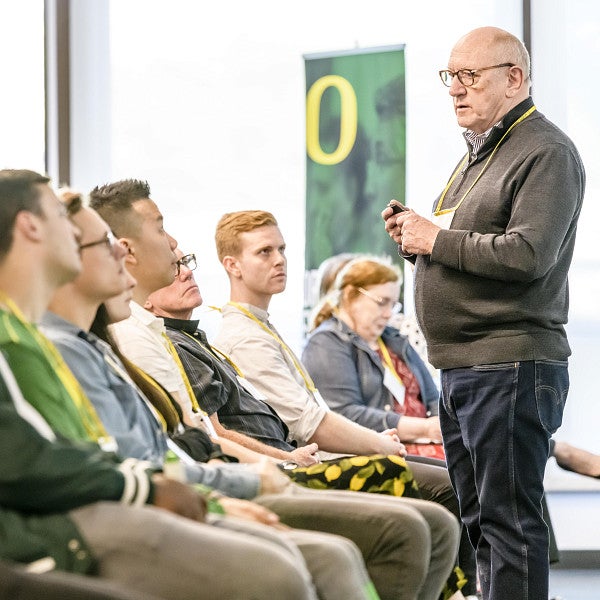 Career Development
Sports Product Management students are supported through the career exploration process by our dedicated instructors and staff. They also gain access to sports and outdoor product companies through industry events, internships, guest speakers, and more.
Pursue your master's among an elite group of talented individuals.
89
Full-time SPM students in Portland
47.5%
Racial and ethnic minorities
24%
Sports industry experience (Portland program)
44%
Sports industry experience (online program)

International Student Resources
The Lundquist College offers a wealth of resources specifically for international students to help navigate the application process.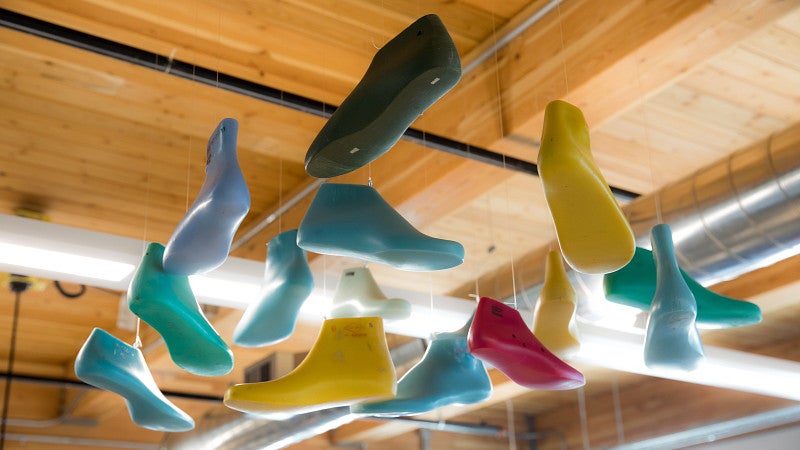 Upcoming Events and Workshops
Sports Product Management Application Workshop
Sports Product Management Application Workshop
Apr 5
Sports Product Management Preview Day: Explore What It's Like to be a Student
Sports Product Management Preview Day: Explore What It's Like to be a Student
Apr 14
Gather
Gather
Apr 20
109 NW Naito
Research
The Sports Product Management program is committed to research efforts that support innovation and advance learnings in the world of sports and outdoor products.
Contact Us
Academic Facility
109 NW Naito Parkway
Portland, OR 97209
Mailing Address
38 NW Davis Street, Suite 200
Portland, OR 97209