Go beyond the numbers.
The Lundquist College of Business offers BS and BA degrees in accounting. Accounting students embark on careers in an exciting and prestigious profession pursuing positions in public accounting firms, industry, and government. Accounting majors will complete a set of ten upper-division core courses and seven specific accounting courses. Accounting majors can choose to pursue a general accounting degree or add a concentrate in one of five areas: entrepreneurship, finance, marketing, operations and business analytics, and sports business.
Explore more in accounting:
---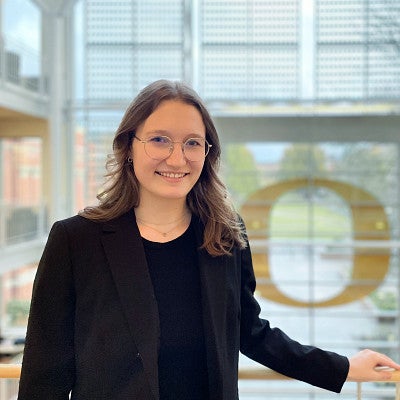 "I learned of the concept of accounting through my grandfather. It was between engineering and accounting for me. I joined Beta Alpha Psi for more social interaction—I even dragged my friend to meetings. Now we are both BAP officers!"
---
Undergraduate 3+1 Accounting Program
The 3+1 Accounting Pathway is an opportunity for qualified incoming freshmen interested in accounting to complete both the bachelor's degree in accounting and the master of accounting degree in four years. High-achieving students are fast-tracked for admission to the Lundquist College of Business one full year before their contemporaries and can complete their undergraduate degree in three years, with the fourth year used to complete the Master of Accounting program.
3+1 Accounting Pathway Program
---
Accreditation
The School of Accounting at the University of Oregon Lundquist College of Business is fully accredited by the Association for Advancement of Collegiate Schools of Business (AACSB), the leading organization for business school accreditation.