---
Sustainability at the University of Oregon is not a new concept. It's why we have a Center for Sustainable Business Practices that supports our top-ranked Green MBA program.
Here, we take sustainability seriously. It's why we teach our students to identify innovative ideas and better materials and to think about sustainability from a business perspective—and a human one. We've been teaching and practicing sustainable business for almost three decades, creating leaders who know how to balance social, environmental, and financial responsibilities.
For us, the market demand for transparency, sustainability, and business responsiveness just makes sense. And Oregon—with its natural beauty, array of outdoor opportunities, and appreciation for the environment—continues to be a nexus of sustainable business management practices and innovations.
---
Center News
---
Hands-On Learning
Hands-on learning is a central tenet of the Center for Sustainable Business Practices. When students are given the opportunity to apply classroom concepts to a real business situation, they gain a greater understanding of business dynamics. Integrated in this experiential education philosophy is a strong connection to industry.
The following are experiential learning activities facilitated by the center as part of the Oregon MBA program. 
Guest Speakers and Executive in Residence
Consulting Projects
Interdisciplinary Initiatives
Engaging Asia
Study Tours
UO Net Impact
---
Strategic Planning Project Program
Is your company in need of consulting services? Our Strategic Planning Project (SPP) program places MBA student teams in five-month engagements, culminating in strategic recommendations and an implementation plan. Whether it's providing specialized expertise or simply moving forward an important project you haven't gotten to yet, we are focused on adding value to your activities.
---
Academics
Oregon has an international reputation for environmental quality, social stewardship, and innovative sustainability policy. The UO Lundquist College of Business leverages this distinctive quality of Oregon through the Center for Sustainable Business Practices.
At the undergraduate level, the themes of sustainability are interwoven into most of the core courses you will take at the Lundquist College, and we are currently investigating options for adding an undergraduate concentration.
At the MBA level, the center supports the sustainable business practices specialization, giving students hands-on learning experiences that cannot be matched by other programs. The Oregon MBA's sustainable business curriculum provides students with tools and knowledge actively used—and sought out—by today's leading companies in the area of sustainability. Coursework includes: sustainable business development, supply chain operations and information, principles of industrial ecology, project and operations management models, life cycle analysis, and more.
---
Center Faculty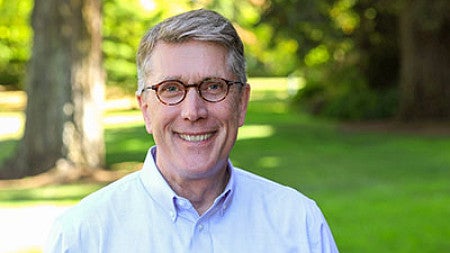 Program Manager, Center for Sustainable Business Practices | Professor of Practice
Research and Teaching Specialties
Business Sustainability
International Business and Brand Strategy
Sports Marketing
Leadership
Marketing and Sales Management
Marketing Measurement and Accountability
---
Research
As the dimensions of sustainability change so too do the areas of study, but there are four major areas that occupy the center's faculty members' research:
Sustainable supply chain and operations management: Assess and design scalable and value-creating global supply chain processes that meet emerging standard for sustainable operations and leverage the entire value chain from sourcing, logistics and manufacturing to marketing, distribution and customer relations.
Organizational change for social and environmental stewardship: Articulate strategic aspirations, engage internal and external stakeholders, manage interactions of organizational systems and interfirm relationships, and develop effective change programs to help guide organizations, executives and teams on implementation of strategies.
Performance measurement and governance: Develop corporate social responsibility performance metrics and feedback processes to lead performance, ensure transparency, link operations with overall strategic goals, and support management as it adjusts to and plans for risk and maintains its competitiveness.
Measurement and analysis for the life cycle: Assess, design and adjust the life cycle of goods and services to maximize environmental stewardship, minimize cradle to grave impacts, and support ongoing improvements and standards compliance.
---
Industry Partners
Partners of the Center for Sustainable Business Practices provide valuable assistance and strategic support for the center's mission, furthering research and scholarship, ensuring that our curriculum reflects industry needs, providing career opportunities, and building a network among the region and the country's active stakeholders and participants in sustainable business.
To date we are proud to have received support from Gary and Janie Hibler, Chuck and Sue Carlbom, Stephen and Paula Reynolds, and the Granger Family Charitable Trust, as well as the following companies:
Evraz Oregon Steel Mills
Jeld-Wen
Neil Kelly
We welcome other companies and individuals who wish to partner with the center. Please contact the college's Development and External Relations office at 541-346-1346 or visit the college's giving page.