The Miles and Eleanor McKay Business Technology Center, located on the third floor of Chiles, is the central computer lab and technology resource hub for the college. The lab is available to:
UO business undergraduate majors and minors*
MBA, MAcc, and MSF graduate students
Students currently enrolled in at least one business course (ACTG, BA, BE, OBA, FIN, MGMT, MKTG)
*Undergraduate business majors and minors must be enrolled in at least one UO class.
The lab is home to a number of computers—installed with a large selection of software useful to business students—as well as multi-function printing devices. Equipment is also available to check out for a limited amount of time.
Lab Front Desk
Chiles 326
541-346-3381
lcblabtech@uoregon.edu
Hours of Operation
Fall, Winter, and Spring Term
Monday-Thursday: 7:30 a.m.–10:00 p.m.
Friday: 7:30 a.m.–7:00 p.m.
Saturday: 10:00 a.m.–4:00 p.m.
Sunday: 10:00 a.m.–4:00 p.m.
Summer Term
Monday-Friday: 7:30 a.m.–6:00 p.m.
Saturday-Sunday: Closed
The lab follows UO's holiday observance schedule. The Wednesday before Thanksgiving, the lab closes early. Please call 541-346-3311 for the early close time.
---
Virtual Lab
A virtual computer lab is also available to any faculty, staff, or enrolled business student. The virtual computer lab provides access to all the same resources as any Lundquist College lab computer including software, printer resources, and mapped network drives from anywhere on any device.
---
Practice Rooms
Undergraduate business students can reserve Lillis 263 and limited access to Peterson 205. Rooms are reserved in two-hour increments. Keys must be signed out at the computer lab front desk in 326 Chiles. Reservations are only accepted online.
---
Helpful Tips
Save often: Lab computers do not store information. If an outage or computer were to occur, any information not saved would be permanently lost.
 
Save to the network home drive ("M" drive): Each declared business undergraduate and graduate student is supplied with space on the college's network "M" drive, accessible from on and off campus. Don't risk losing a project; store it here. Files saved on this drive are backed up regularly. See the front desk staff for more information or view the instructions online. Faculty and staff also have access to a network home directory is mapped to the "M" drive.
 
Remember to log off your lab computer: When using the computer lab it is important to always log off when finished. If you remain logged on, someone else could have access to your network drives and printing account.
 
Install the UO VPN client: Installing and using the UO VPN client will give you access to university resources such as your network home drive, library resources, and other internal university services that are only available when connected to the university network.
 
Connect wirelessly: With your DuckID you have access to the university's wireless network. A wireless connection allows you to access university resources just about anywhere on campus.
---
Miles and Eleanor McKay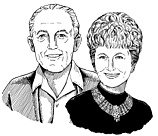 In 1979, Miles E. and Eleanor McKay donated the first computers to the Lundquist College of Business, anticipating how technology would transform the business world and ensuring that our students would be ahead of the curve. In 2008, their son J. Douglas McKay established a $1 million endowment to honor his parents and provide for continual upgrades to the college's computer labs as technology advances.
Miles was a graduate of Eugene High School and the University of Oregon, eventually founding McKay's Market in 1939 and growing the grocery chain to sixteen stores before he sold them in 1959. He then devoted his energies to McKay Investment Company, a partnership consisting of Miles, Eleanor, and their children, Linda and Doug. McKay Investments became a successful developer of commercial property, partnering to build and lease stores to Bi-Mart Corporation and owning and evolving Oakway Mall on the former family farm site where Miles's father lived.
The lab was dedicated to the McKays in January 2009.