Namesake
"No matter what you do in business, make sure you do what you like and you will be successful. Don't ever lose sight of what's important."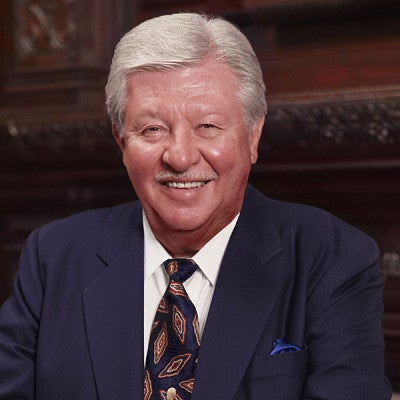 Charles Henry Lundquist was a 1942 graduate of the University of Oregon's College of Business, where he majored in accounting. In 1989, his passion for business and entrepreneurship inspired Lundquist to fund an endowment to create the Center for Entrepreneurship at the University of Oregon's College of Business. Four years later, he enhanced that initial investment by establishing one of the first multimillion-dollar endowments to the University of Oregon. In recognition of his generosity and commitment to advancing education, the college at that time was renamed in honor of Lundquist. Lundquist was a benefactor to the college until his death in 2006. His business career, generosity, and passion continue to inspire our students, faculty, and alumni today.
---
Our Deans
Harry B. Miller 1914-1915
D. Walter Morton 1915-1920
Edwin Clyde Robbins 1920-1928
David Ernest Faville 1928-1932
Harrison Val Hoyt 1932-1936
Victor Pierpont Morris 1936-1957
William C. Jones 1957-1958 (interim)
Richard Wadsworth Lindholm 1958-1971
Paul Swadener and Donald S. Tull 1971-1972 (interim)
Richard Rollin West 1972-1976
James E. Reinmuth 1976-1994
Tim McGuire 1994-1998
Dale Morse 1998-2000
Philip Romero 2000-2004
---
Historical Timeline
Since 1914, the Lundquist College of Business has provided quality business education to students from around the world. We have a rich history that has played a significant role in advancing the economic interests of Oregon, the Pacific Northwest, and beyond. The following timeline provides a brief overview of our history, illuminating defining moments that contribute to who we are today.
 

1876

University of Oregon founded.

1900

Business curriculum announced in the university catalog.

1914

School of Commerce founded, making the UO one of the first four-year schools in the nation to offer a commerce curriculum. 

1918

World War I brings a surge in enrollment of women: 94 women and 68 men enroll.

1920

UO School of Commerce renamed the School of Business Administration
Commerce Hall (now Gilbert Hall) is built.

1923

First MBA awarded.
Undergraduate program first accredited by AACSB.

1929

Oregon State Legislature creates the State Board of Higher Education.

1932

Board makes UO the flagship institution for business education in the state.

1936

Victor Pierpoint Morris becomes dean and serves until 1957, the longest term of any dean in the college's history. Morris has a deep concern for the human element of business, infecting an atmosphere of openness and collegiality that persists to this day.

1942

World War II drops enrollment to 231 students: 159 women and 72 men.

1952

Commonwealth Hall is built to connect Oregon Hall and Commerce Hall (subsequently renamed Gilbert East and West, respectively) accommodate an enrollment of 942 and a faculty and staff 42.

1957

First faculty endowment funded and named, the Miner Chair in Real Estate and Insurance.

1958

First center of excellence founded, the Forest Industries Management Center, providing a forum for research and information exchange with industry.
First executive education program created.

1959

College sends an economic advisory envoy to Korea to help improve its economy following the Korean War.

1961

Partnership with Portland State University creates an evening MBA program in Portland for executives and working professionals.

1964

European Exchange Program in Business Administration (also known as the Nijenrode Exchange Program) launched for faculty and students in partnership with the Nijenrode School of Business in The Netherlands.

1967

School of Business Administration becomes the College of Business Administration, consisting of the Undergraduate School of Business and the Graduate School of Management.
Center for International Business Studies founded to encourage students to develop a great awareness of culture in business and economics.

1973

Catherine Jones becomes the first women to serve as assistant dean of undergraduate studies.
Center for Capital Market Research (a precursor to the school's current Cameron Center for Finance and Securities Analysis) founded.
Experimental Center for the Advancement of Invention and Innovation (a precursor to the LundquistCenter for Entrepreneurship) founded.

1975

Commonwealth Hall renovated to improve accessibility to existing Gilbert East and West buildings. All three halls renamed Gilbert Hall Complex.
Office of External Affairs established to strengthen ties to the business community.

1976

Enrollment increases more than 25 percent in two years.

1978

Under the leadership of Dean Jim Reinmuth, the college redefines its operating philosophy to "develop and integrate established teaching and research activities with an authentic working relationship with the business community. The college's focus on providing real-world experiential learning opportunities for students is born.

1979

College receives its first computers thanks to the vision and foresights of Miles E. and Eleanor McKay.

1985

Chiles Foundation donates $1.5 million to build Chiles Center, a 15,000-square foot facility housing case rooms and computer labs.

1986

Chiles Center opens, becoming the first building on the UO campus built entirely through private support.
Building on the college's previous executive education efforts, the Oregon Executive MBA program launches in Portland in partnership with Portland State University and Oregon State University.
College begins offering an MBA in international business.

1987

Total student enrollment passes 3,000 for the fist time.

1988

Charles H. Lundquist donates $1 million to create the Lundquist Center for Entrepreneurship, advancing the college's reputation for focusing on entrepreneurial and emerging businesses.

1989

Accounting program first accredited by AACSB.

1994

Pleased with his initial investment, Charles H. Lundquist creates a $10-million endowment for the college of business. It is the first multimillion dollar endowment in UO history. The college is renamed the Lundquist College of Business.
James H. Warsaw founds the Warsaw Sports Business Center, the first-ever sports marketing program housed at a college of business.

1999

Chuck and Gwen Lillis provide the lead gift for the Lillis Hall. Dozens of other donors contribute, raising total private funds for the building to $37 million.

2003

Lillis Hall opens, replacing what was known as Commonwealth Hall. Lillis is an environmentally friendly, student-centered facility emphasizing cutting-edge teaching spaces for small-group and experiential learning. The building is the first sustainable public building in Oregon and wins dozens of design awards.
The historic Gilbert West building is renamed Peterson Hall. Gilbert East becomes Gilbert Hall and the entire complex is renamed Lillis Business Complex.

2006

Engaging Asia Initiative launched to introduce students to the culture and social context of East Asia through classroom instruction and annual study tours to the region.

2007

Securities Analysis Center receives initial funding from a core group of donors and commences operations.
Peterson Hall renovated to create a seamless interior environment with Lillis Hall while preserving the historic façade.

2008

College institutes a revised MBA curriculum focused on the centers of excellence that define the college: Warsaw Sports Business Center, Lundquist Center for Entrepreneurship, Center for Sustainable Business Practices, and Securities Analysis Center.
Center for Sustainable Business Practices officially opens.
Total enrollment surpasses 4,000 students, with a faculty and staff of 158.

2010

Hope Anstett gives $5 million to enable the renovations of Gilbert Hall. Demolition and construction begin.
Chiles Center under goes extensive remodeling and gains new technology labs.
Alum Cornelis A. "Kees" de Kluyver becomes dean in September 2010.

2011

Business Research Institute opens, providing students—and local and national businesses—with a suite of state-of-the-art tools for marketing research.
Opening of newly renovated Anstett (formerly Gilbert) Hall.

2013

The college assumes leadership and oversight of the Portland-based Oregon Executive MBA program. Prior to 2013, the executive MBA program was a joint venture between the University of Oregon, Oregon State University, and Portland State University.
Job Shadow program begins that partners undergraduate business students with host companies for exploring career options.

2014

Construction begins on a new building in Portland that will house the college's Oregon Executive MBA program and proposed Sports Product Management program.
The College of Business Residential Community begins in Earl Hall.

2015

The college gets official approval to launch its new master of science in sports product management program in Portland. The program accepts 37 students into its first cohort.
Oregon Consulting Group founded for undergraduate business students to work as consultants on real-world projects for actual organizations, gaining invaluable experience while still in school.
The Finance and Securities Analysis Center is renamed after a large gift to the Marilyn C. and Gerry B. Cameron Center for Finance and Securities Analysis.
James Terborg, professor emeritus of management, named interim dean.
College earns a #1 Green MBA ranking from the Princeton Review, recognizing our commitment to advancing sustainable business practices.

2016

QuackHack, the first ever collegiate gaming hackathon, is organized and hosted by the college.
Bruce Blonigen named interim dean in August 2016.
The college raises a record-setting $30 million in private donations for the fiscal year.
College named the #1 Green MBA in the United States by The Princeton Review for the second year in a row.

2017

Sarah E. Nutter becomes dean in January 2017. She is the first woman to lead the college and makes the Lundquist College one of 10 business schools ranked in the top 50 to have a female dean.
The college's new building in Portland opens its doors at 109 Naito Parkway. The building houses the Oregon Executive MBA and Sports Product Management programs.
New Master of Science Finance graduate degree program launched.
Department of Accounting elevated to a School of Accounting, becoming just one of 43 schools of accountancy or accounting in the United States.

2018

Business 1O1 podcast launches.
Career Services is renamed to Mohr Career Services thanks to a significant gift from Jay and Kim Mohr.
Warsaw Sports Business Center celebrates 25 years and hosts inaugural esports workshop with Turner Broadcasting.
ESPN College GameDay returns to broadcast from in front of our Lillis Business Complex for the sixth time.
The Sports Product Management program launches an online version of its master's degree.

2019

The college launches new minors in sports business, entrepreneurship, and sustainable business, adding to its existing general business minor.
New Professional Edge Program launched, offering non-credit short courses  focused on skills essential in the modern job market.
Lundquist faculty are ranked 53rd in the world in research productivity, jumping 10 spots and making it just one of four schools in the Northwest in the top 100.

2020

Charles M. Lillis, namesake of the Lillis Business Comples, is recognized by AACSB International as 2020 Influential Leader in the area of technology.
The Warsaw Center partners with Riot Games to host a Busienss of eSports workshop
The college partners with Portland Business Journal to create "Oregon's Recovery Playbook," highlighting the region's thinkers, doers, and leaders in prepartion for a post-pandemic economic recovery.

2021

The college's accreditation from AACSB International is renewed for another five years in both business and accounting.
Management faculty are ranked in the top 14 most productive on a per capita basis.
A partnership between the college and the UO Office of Financial Aid creates a new Financial Wellness Center open to all UO students.

2022

UO Sports Product Management student create new heated training shorts used by the U.S. Ski team at the Winter Olympics.
Bruce Blonigen named as new Edward Maletis Dean of the Lundquist College of Business
Undergraduate and MBA students get hands-on experience planning, organizing, and marketing the World Athletics Championships Oregon22.

2023

The Oregon Innovation Challenge launches, creating a new model for supporting student startups at the University of Oregon and mentoring more then 200 ventures in its first year.
The Warsaw Sports Marketing Center officially changes its name to Warsaw Sports Business Center.