The Lundquist College of Business commencement ceremony is held separately from the University of Oregon commencement ceremony. Students are invited to attend both. The main University of Oregon ceremony will also be livestreamed.
UO Commencement Ceremony
Tuesday, June 20, 9:00 a.m. PT
Autzen Stadium
All University of Oregon students graduating in fall 2022, winter 2023, spring 2023, summer 2023, and fall 2023 are invited to participate in the UO commencement ceremony.
Lundquist College Commencement Ceremony
Tuesday, June 20, 1:00–3:00 p.m. PT
Matthew Knight Arena
All business and accounting undergraduate students in the class of 2023 (those earning their degree in winter, spring, summer, or fall of 2023) may participate in the June 2023 Lundquist College of Business ceremony.
---
Graduation Checklist
Apply to graduate on DuckWeb. Do this by April 30 to be listed in the printed program for the Lundquist College of Business commencement ceremony. You must apply to graduate on DuckWeb. Be sure to apply for the term in which you will actually finish your degree. Only indicate spring as your graduation term if you will complete your entire program in the spring. Indicating spring will result in your being classified as a Community Education Program (CEP) Student beginning summer 2023. Your status as a CEP student blocks you from registering for upper-division business courses and limits you to just eight credits. Be sure to list a mailing address where we can send your diploma 4–6 weeks following commencement. Students who apply by April 30 will have their name listed in the commemorative printed program for the commencement ceremony.

Register to participate in the Lundquist College of Business spring commencement ceremony by May 30. All ceremony participants must register in order to participate. Registration for the ceremony is in addition to applying for your degree on Duckweb. Ceremony participation is open to all fall 2022, winter 2023, spring 2023, summer 2023, and fall 2023 graduates. Registration will be open from May 8 to May 30. Those who miss the deadline will be able to check in manually at the ceremony.

Graduating students will register to attend the Lundquist College of Business ceremony on the Marching Order website. You will be emailed a password and instructions to register on Marching Order on May 8. You will not be recognized in the Marching Order system until you receive this information. Please watch for an email from noreply@marchingorder.com.

To register:

Navigate to the Marching Order website.
Click "Register" located under New Users, on the Marching Order site, and follow the instructions to register.
You will receive an email from noreply@marchingorder.com with instructions for obtaining your password. You will not be recognized in the Marching Order system until you receive this information.
Log-in and complete the form.

Purchase announcements, caps, gowns, and other graduation must-haves at the UO Duck Store. Announcements and regalia, including honors cords for students graduating with honors, are available at the information center on the main floor of the UO Duck Store. For those who hold Beta Gamma Sigma honors, honor cords may be purchased online via the Beta Gamma Sigma store.

(Interested in donating your cap and gown after graduation? The UO Duck Store will collect donated regalia and give it to the High School Equivalency Program. Questions should be directed to Stacy Miller at The Duck Store.)

Send commencement information and updates to family and guests. Send links to this page (http://business.uoregon.edu/ug/commencement), the UO commencement ceremony page (http://commencement.uoregon.edu), and—for those unable to attend—the livestream link (http://media.uoregon.edu/channel/livestream).

Encourage guests to make reservations for hotels and accommodations months in advance. Local hotels fill early on commencement weekend. For additional information, see the UO commencement website.

NOTE FOR INTERNATIONAL FAMILIES: International students' families needing verification of their student's graduation for travel purposes should contact the UO International Student and Scholar Services.

Complete your First Destination survey in Handshake by June 15, whether you have a job, graduate school plans, or are still exploring your options. If you're still looking for a job, the Mohr Career Services team and the University of Oregon's Handshake resource are available to help.

Read your Canvas and UO e-mail announcements frequently for commencement updates. Forward updates to family and guests.
---
Commencement Day
Commencement Schedule
7:00 a.m.–6:00 p.m. – Lillis Business Complex open to visitors
9:00 a.m. – University ceremony, Autzen Stadium
11:45 a.m. – Lundquist College graduates check in at Matthew Knight Arena (west entrance)
12:15 p.m. – Doors open for general public (use north or east entrances)
1:00 p.m. – Lundquist College of Business ceremony, Matthew Knight Arena
3:00 p.m. – Reception in Lillis Business Complex
Commencement Instructions
Arrive at 11:45 a.m. at the west entrance of Matthew Knight Arena.
Pick up your name card. Your name card is required to enter the line-up area and is your ticket to the stage. Students are not required to sit in alphabetical order, so if you'd like to sit with someone, be sure they are immediately in front of or behind you when you line up before entering the auditorium.
Complete the career survey and drop it off at the checkpoint table prior to going downstairs to line up.
Follow cues from the staff. They will guide you into your seats. Faculty will enter the arena first and graduates will follow.
Bring your name card with you when you approach the stage. This card will be scanned as you approach, enabling information about you to be projected on the screens. If you lose your card, we will have blank cards at the stage, which will display "congratulations graduate" as you cross.
Please return to your seat for the remainder of the ceremony. At the end of the ceremony, each row will wait until cued by staff to leave.
If you wish to donate your regalia to a future graduate, you may leave it in the donation bin in the Lillis atrium following the ceremony.
Key Locations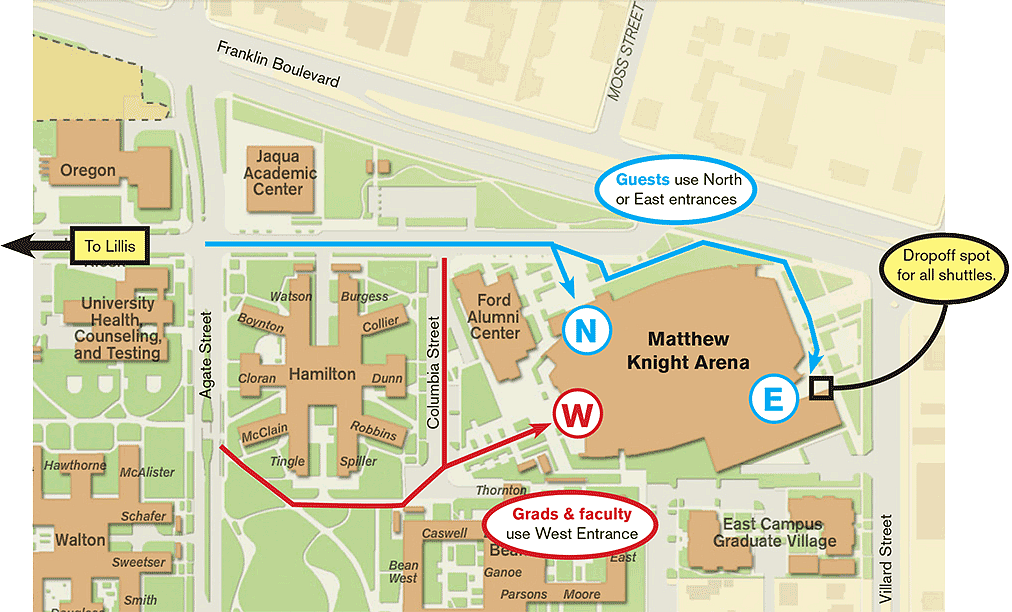 See the commencement map pictured here or download a PDF of the commencement map.
Use the interactive campus map or get the mobile UOregon app for your iPhone or Android device.
Important: After the ceremony, graduates will exit at the west doors of the arena and be led toward Columbia Street. Guests will exit using a different exit.
---
Additional Information
Lundquist College of Business Ceremony Participants
Undergraduate business and accounting majors who graduated fall 2022, winter 2023, or who applied on DuckWeb to graduate spring 2023, summer 2023, or fall 2023 and have registered to attend the ceremony may walk across the stage. Fall 2022 and winter 2023 graduates as well as spring, summer, and fall 2023 applicants who apply to graduate on DuckWeb by April 30 will be listed in the commencement program.
Tickets
Tickets are not necessary for the Lundquist College of Business ceremony. We will have plenty of seating in Matthew Knight Arena.
Meeting Guests
Before the ceremony, be sure everyone in your party knows where you will meet following the ceremony. We recommend you designate a location near Lillis. This will reduce congestion and confusion just outside of Matthew Knight arena. Commencement staff will be available to direct guests to Lillis. Do NOT plan to meet your guests near the arena entrances or exits. Crowd control staff will require you (and your guests) to keep these areas clear.
If you have guests who are uncomfortable in large, congested crowds, you may want to suggest they simply wait 10-15 minutes until the crowds thin out before attempting to leave Matt Knight. Our goal is to keep stress to a minimum and to make this an enjoyable day for all.
Accessibility
Matthew Knight Arena has seating available for guests with mobility concerns. Commencement staff will be available to direct guests to this seating. We ask all guests to be mindful and leave the seats near the wheelchair area available for families that would like to sit together. Golf cart shuttles will be running between Matthew Knight Arena and Lillis to assist those who may have difficulty walking that distance. Guests are encouraged to ask at the information booth on 13th and Agate, or simply flag down a golf cart. Commencement staff will also be available to assist in obtaining golf cart assistance. Please contact the Lundquist College undergraduate advising office in 203 Peterson or via email at lcb-undergrad@uoregon.edu if additional accommodations are necessary.
Parking
There will be no public parking available on campus other than for vehicles with designated ADA placards or plates. The university provides parking at Autzen Stadium. Immediately following the conclusion of the commencement ceremony, free shuttle buses will be available to transport guests from the stadium back to campus. Visit the UO commencement website for details. Be sure to visit the main commencement website for traffic advisories.
Personal Photography
To avoid blocking the narrow processional or restricting views for all audience members, please plan to photograph before or directly after the ceremony. In addition, there are numerous beautiful sites throughout campus, and near Lillis to obtain great graduation photos. We encourage you to consider taking your guests around campus to snap some photos.
Please note: Due to fire marshal restrictions, guests are not permitted on the main floor during the ceremony. Please be sure that your guests are aware of this policy.
Professional Photography
Want the perfect picture of your special day? GradImages, UO's official commencement photographer, will be on hand to photograph each graduate as they receive their diploma. Pictures can be purchased for approximately $9.95 for a 5 x 7 inch photo. Pictures may be viewed online on the GradImages website within 48 hours of the ceremony (enter UOFO as your password). Any questions regarding graduation photos can be directed to service@gradimages.com or by calling the GradImages customer service at 1-800-211-0436.
When you register on MarchingOrder, you are automatically registered with GradImages. You do not need to do anything further, however you can pre-register online and get 20% off your order.
Consumption of Alcohol at Commencement
Participation in the Lundquist Ceremony is a privilege. We kindly request graduates limit their consumption of alcohol prior to the ceremony. Graduates who arrive at the ceremony under the influence of alcohol or other drugs, may be refused the opportunity to participate in the ceremony. Please be respectful of your fellow graduates, family members, and guests and arrive at the ceremony sober.
Diplomas
The Registrar's Office will mail diplomas 4 to 6 weeks following commencement.
---
Contact
Office of Advising and Student Experience
Peterson 203
1208 University of Oregon
Eugene, OR 97403-1208
541-346-3303
lcb-undergrad@uoregon.edu