For the past decade, the University of Oregon School of Journalism and Communication (SOJC) has provided the Lundquist College of Business with campaign and materials for the UO's New Venture Championship through Allen Hall Advertising (AHA), the journalism school's in-house advertising agency.
The relationship began in 2003 when SOJC advertising faculty member Dave Koranda and professors in the Lundquist Center for Entrepreneurship were looking to find a way for the two schools to collaborate. While reading through business plans from the entrepreneur competition NVC, Koranda realized that the students had brilliant businesses and innovative technologies, but lacked communication plans. From this insight, he created a course within the SOJC that would focus on creating communication plans for NVC teams and promoting the event in new ways.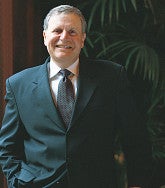 Tim Boyle, president and chief executive officer at Columbia Sportswear, believed in the idea so much that he sponsored the relationship. Boyle studied both journalism and business at the University of Oregon and served as the co-chair of Campaign Oregon. His funds give AHA the budget to create and place advertisements that can be seen all over Portland. Thanks to Boyle's investment, students experience the components of advertising for a real event, helping them hone and develop their talents, while publicizing one of the Lundquist College's trademark events.
"It benefits the journalism school because it's a good training ground," Koranda said. "It benefits the business school because students who are trained in advertising, planning, and communication are creating all the communication and promotional materials."
Currently, AHA is a group of nine journalism students who have a hand in the creation of communication plans and advertising for the international business competition. This involves placing ads, developing creative marketing techniques, and generating hype around Portland.