For the past quarter century, Portland Business Journal has recognized the region's next generation of leaders with its Forty under 40 awards. The annual award honors these rising professionals for what they've accomplished in the past as well as their potential to achieve in the future.
Here at the Oregon Executive MBA, we are proud to count 19 honorees among our graduates and current students. In fact, starting in 2017, we have had an unbroken streak of winners—at least one current student or graduate per year, for a grand total of 13.
We are so proud to welcome the latest additions to this elite group. On Friday, May 13, we will join Portland Business Journal and hundreds of the region's business leaders to celebrate the Forty under 40 Class of 2022. Keep reading for brief interviews with this year's Oregon Executive MBA honorees: Banning Hendriks, MBA '19; Mary Miksch, MBA '21; and Mark Pimentel, MBA '23.
---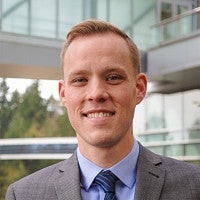 Director of Patient Experience, Oregon Health and Science University
---
See if the Oregon Executive MBA is right for you
Schedule a Zoom or call with Caitlin Biddulph, the Oregon Executive MBA senior director of executive admissions.
For OHSU's "Director of Stuff", Every Day is Different
Director of patient experience is Banning Hendriks's official title at Oregon Health & Sciences University (OHSU). But because his portfolio at the world-famous teaching hospital seems to expand continuously, Hendriks and his team often joke that a more accurate title would be "director of stuff."
One thing's for sure: Hendriks has myriad responsibilities at the world-famous research hospital. He oversees a nearly $8 million budget and is currently accountable for a team of 35 full-time employees, more than 100 contract employees, and more than 600 volunteers.
Hendriks's crucial work throughout the COVID-19 era inspired his manager Gina Hawley, OHSU's VP for professional and support services, to nominate him for the Forty under 40 award. Hendriks took a few minutes to share insights into his work and discuss what his new Forty under 40 honor means to him.
What does a typical day look like for you at OHSU?
No one day looks the same! Some days I'm very focused on project work and building out new programs that might include improving patient experience. Other days—like today—I focus my effort on language access and working on expanding access to resources for any of our patients or colleagues with limited English proficiency.
What have you taken on specifically because of the COVID-19 pandemic?
One of the big pieces I took on over the past two years is the workforce responsibility for all of our mass vaccine sites, like the Red Lot out at the airport and our partnership with All for Oregon at the convention center.
We've also been very focused health equity and working to reduce the health disparities that have been so evident throughout the pandemic.
It sounds like you've always been very busy at work—even before the pandemic. What made you decide to add earning an MBA to your life?
I knew that I was always going to get a master's degree. Initially my husband and I were living in Atlanta, and I thought about pursuing programs there. Then I had the opportunity to start at OHSU, so we moved to Portland. After my first year at OHSU, I had the opportunity to take on the role of interim director of patient experience. About six or nine months into it, I decided I'd better apply for the job. OHSU leaders were supportive and knew I was capable of taking the position, but they also wanted me to get my master's. That was the tipping point—taking this role and having the support of OHSU leaders who said they wanted me to go back and finish that part of my education.
What has been the best part, so far, of receiving the Forty under 40 honor?
It has been fun having so many people reach out to me, even people from previous jobs that I've had. It's been really fun to reconnect with people.
But it's also been a very humbling experience. So much of what I have done, I've done with others and it's absolutely been a team effort. I could not have done any of this without all of the collaboration and teamwork that exist at OHSU. And there are also the partnerships that we've developed along the way: The National Guard, the Red Cross, the Port of Portland. There have just been so many involved parties and people that have risen to the occasion.
What's next for you?
OHSU is expanding up on the hill and increasing many of the services that we have there. We'll be growing our team to support the new facility and new patient volume but also rethinking what that looks like from a patient experience perspective.
I'm really excited about the work that my team's doing right now. We're focusing on elevating and amplifying the seldom-heard voices of patients and communities that have been historically underrepresented in the work we've done. So much of our work is about learning from the lived experiences of others and creating space for us to collaboratively design and improve healthcare. 
Thinking about those individual patient journeys and experiences and how we improve those—I'm excited about transitioning away from the pandemic response and focusing on the work I'm passionate about.
---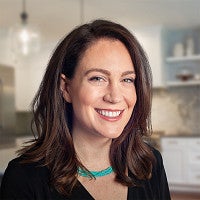 Director of Organizational Development and Training, Neil Kelly Company
---
Find out more about the Oregon Executive MBA
Schedule a Zoom or call with Caitlin Biddulph, the Oregon Executive MBA senior director of executive admissions.
Building Organizational Strength with Design and Strategy
For Mary Miksch, MBA '21, learning new things and teaching them to others are the heart of her personal mission. After starting at Neil Kelly Company as a designer in 2013, Miksch consistently earned promotions, broadening her responsibilities at every step.
When COVID-19 arrived on the scene, Miksch was tasked with leading an effort to document and share best practices in response to the company's PPP funding opportunity. This led to the development of Neil Kelly University, a space for stakeholders across the company to learn and share via recorded classes.
At the same time, Miksch led another key project for the organization, working with an outside consultant to create the Neil Kelly Nine: a list of accessible company values that connect team members from all areas of the organization.
The success of these two efforts led the company to promote Miksch to its director of organizational development and training—a new leadership title that was created especially for her.
Miksch believes organizations thrive when they invest in every member of the team. Now she is sharing her insights with a broader audience, speaking at professional organizations, communicating as a podcast guest, and through articles in national publications.
Looking at the span of your career, it feels like you have always made connections between areas we think of as subjective—like design or the ethos of an organization—and areas that are more obviously driven by numbers.
I never thought of it that way, but it's true. Even from the roots of my career in design followed by coming to a design/build firm, where I started to see all the numbers behind the emotions. That connection is one of the reasons I was motivated to get an MBA. I wanted to find ways to make the business case for more emotional or cerebral values that are important to every organization.
You earned your undergraduate degree in architecture. What was it like to pursue an MBA?
I was really surprised how much I enjoyed all of the accounting and finance classes. It was something coming into the program that wasn't directly relatable to my career or undergrad experience. The MBA program gave me a more holistic perspective on the business.
What part of your MBA experience did you find most meaningful?
The capstone experience ended up being the most enriching for me. It wasn't just an assignment. It became a way to clarify my own identity as a business person.
I approached it as an opportunity to become an expert in an area of business that was related to my core values.I asked myself "what is the story that I want to tell about my capstone and my career, and what does that story say about me?"
Tell us a little more about your capstone project.
My capstone project was something near and dear for me that I wanted to learn more about so that I could communicate it better to others. I wanted to examine the reasons why investing in our people is so important.
How do we try and calculate an ROI when it comes to professional development and retaining our best people?
I was able to look at specific positions within our company where we had hourly data that I could pull and compare to our gross sales. This was a way to look at the efficiency and productivity of a key role and how that might contribute to trends over time for our sales and profitability.
What was a top takeaway for you?
What I really enjoyed about my capstone was how much I learned about motivation and the generational transformation of the workplace. We want to keep employees because their inherent value builds up over time. And how do we keep someone? That's a whole different question and a very different answer than it was 10 years ago. I learned a lot about how the workplace has changed and why things like having a purpose and having a path matter more than ever.
What's most exciting for you about being part of Portland Business Journal's newest Forty under 40 cohort?
I look forward to connecting with the community that is around the award. There is so much to learn from each other within our own personal stories of growth that we can use to inspire others, and I am already inspired by my cohort.
---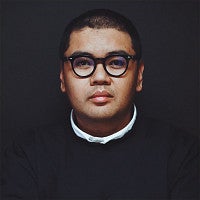 Creative Director, Kids Apparel, Nike
---
Find out more about the Oregon Executive MBA
Schedule a Zoom or call with Caitlin Biddulph, the Oregon Executive MBA senior director of executive admissions.
Dreams and Determination Shape a Career Arc
Dreams and determination are the two themes driving Mark Pimentel's life and career. When Pimentel was just a year old, his parents' dreams and determination propelled his small family from a village in the Philippines to Portland, Oregon. Pimentel's own dreams found him sketching sneakers as an elementary-schooler in Portland's Kenton neighborhood, and his determination helped him work his way up the ranks to a high-profile design career at Nike.
Pimentel got his start in the world of apparel at Oregon State University, where he spent hours sewing new designs. After graduating into the challenging job market of 2010, Pimentel took a job at Nike's old downtown retail store at Sixth Avenue and Salmon Street, where he worked behind the scenes unboxing apparel, cleaning bathrooms, and taking out the closing shift's trash each morning.
Once he landed a design position at Nike, Pimentel took on increasingly prestigious assignments, including creating a range of apparel for Team USA and others competing in the Tokyo Olympics. Another career highlight for Pimentel was seeing Bart Starr receive a custom version of the deluxe Super Bowl 50 commemorative jacket he had designed—and later having the jacket become part of the Green Bay Packers Hall of Fame.
In late 2020, Pimentel made the leap into a more managerial role, becoming creative director for Nike's line of boys' apparel. We caught up with him in a Zoom interview.
What has it been like moving to a role where you are managing a large team?
It's one of the most difficult transitions for any designer to make, to go from an individual contributor—someone who really has the pen to paper—and shift to being a director where you're not holding the pen anymore.
The difference is you're designing a team now. You're designing a team to be the strongest and best team possible. I think the most rewarding thing is seeing the product come to life, and it's better than you ever expected. And seeing your team just enjoying each other's company and feeling really happy about what they've done. And to see the team members develop. I wouldn't trade that for anything.
You already had a career as a designer that many would envy. What made you decide to go back to school and get your MBA?
For me, it was actually a way to learn about this other world of business. So far, it's helped me become a better designer by communicating my ideas and getting some things through that I don't think I ever could have without speaking the language of business.
As I got higher in my career in design, more financial things started popping up in conversations, and I had more visibility to decisions that take place on an enterprise level. I started to hear things, and I didn't understand what they were. I felt like, "here's a different world that I'm not so familiar with," and I realized that if I can integrate some of that business thinking into my design work, it can help communicate an idea to people. Sometimes that may not be through purely a design perspective, but actually, if you come at it with a business perspective—a business case—you'll probably have a better chance of getting your ideas through.
You earned your undergraduate degree at Oregon State University. How has it felt to become a Duck as well as a Beaver?
It hasn't really been an issue. I mean, I bought some Duck gear, and I wore in front of my friends—and they were just shaking their heads. But I'm going to go wherever I feel will give me the best experiences for the things I'm looking for. So, no, I had no qualms about getting my MBA at the UO. I actually enjoy now being able to represent both sides. I'll put it this way: Now I have more teams to cheer for.
What's been the most meaningful part of winning the Forty under 40 recognition for you?
My parents are just over the moon. They're so proud. They're so happy. They called my relatives back home in the Philippines and let them know. Everyone else is back in the Philippines, and they are proud to see me continue to find success and continue to grow and develop. A lot of their hopes and dreams and pride are on my shoulders.
I'm so happy to represent my entire family and have my last name—which is their last name, you know—be on that list.
You spent many years working on various high-profile projects, including groundbreaking work for the NBA. You've even had designs featured in Vogue magazine. What has it been like switching to Nike Kids?
It felt like the stakes were high, doing something so serious with the Olympics and the NBA. But when I look at really what's important, it's the investment in kids and making sure that they are all able to play—that they all have opportunity and access to sport. I'm so excited about the opportunity to become the best kids' brand in the world. That's our mandate—what we want to do. But there is also just the opportunity to really serve kids for life. Like, if we can start them off early, so they can find joy in playing and movement and sport.
There's a lot on the line, but it's fun. The difference is it's fun.
---
Meet the Rest of the UO's Forty under 40 Honorees for 2022
UO Lundquist College of Business
Rana Kassab '07
President, CFO, and COO, Kassab Jewelers, Inc.
Lindsay Krivosha '05
Financial Advisor, Baird
Michelle Löpez '06
Founder, Advisor, and COO, Breakaway Bookkeeping & Advising
Julia Tierney '09
Director of Legacy Planning, Vista Capital Partners
UO College of Arts and Sciences
Roberto A. Gutierrez '09
Government Relations Unit Manager, Oregon Department of Human Services
Chelsea Sokolow '07
Chief Philanthropy Officer, Providence Portland Medical Foundation
University of Oregon
Alando Simpson
CEO, City of Roses Disposal and Recycling
---
Timeline of Oregon Executive MBA Forty under 40 Honorees
2021
Domonique Debnam, MBA '19
Becca Yates, MBA '18
Ozgur Yazicigil, MBA '20
2020
Jon de Asis, MBA '15
2019
Jonathan Blasher, MBA '13
Patrick Ginn, MBA '17
Benjamin Pappas, MBA '16
Caleb Stelle, MBA '18
2018
Helen Yu, MBA '19
2017
David Thompson, MBA '13
2014
Jennifer Schmidt, MBA '14
2011
John Bial, MBA '07
Sam Blackman, MBA '08
Sonny Sapra, MBA '18
2010
Kevin Thomas, MBA '07
2004
Todd Harman, MBA '04