Take a sneak peek at the people behind the products in this virtual gallery. Our students work both individually as well as in teams to plan, design, and bring life to their ideas. Reach out and connect with these rising stars as they prepare to graduate with their master's degree in Sports Product Management in March 2021.
  Individual Projects
The following are individual projects SPM student completed during their time in the program while learning the full product lifecycle while pursuing and producing their own passion projects.
Nick Albenga
Air Jordan 1
In my spare time between classes I've been developing my own pair of Air Jordan 1s. The shoe was made using The Shoe Surgeon's pattern (big thank you to Dom), and was constructed with materials found in the Sports Product Management innovation lab. The process of construction was mine to figure out, with the help of our footwear lab instructor Greg Leedy. I sincerely could not have done it without him. I started sewing when I got into the program, so the final project was less than perfect, but it leaves improvement for my next one!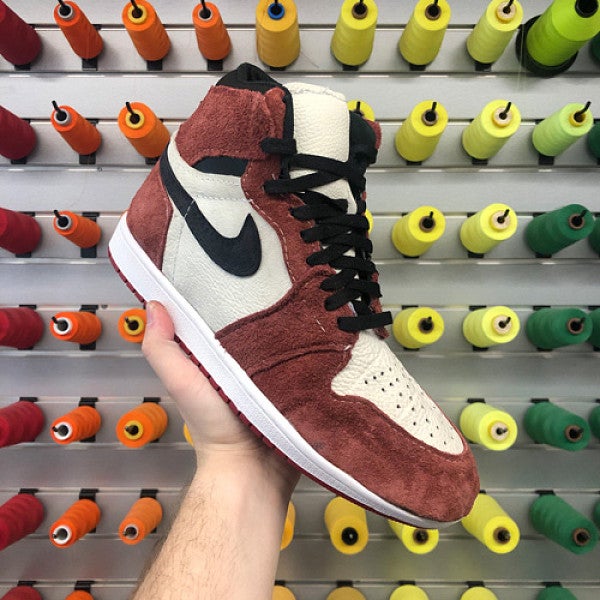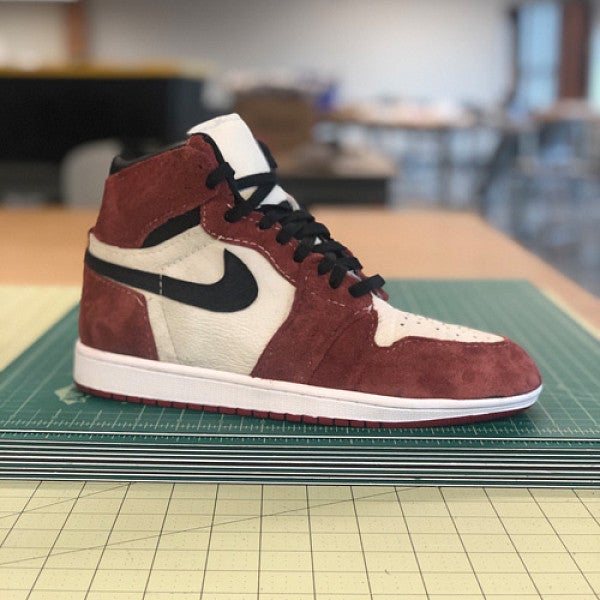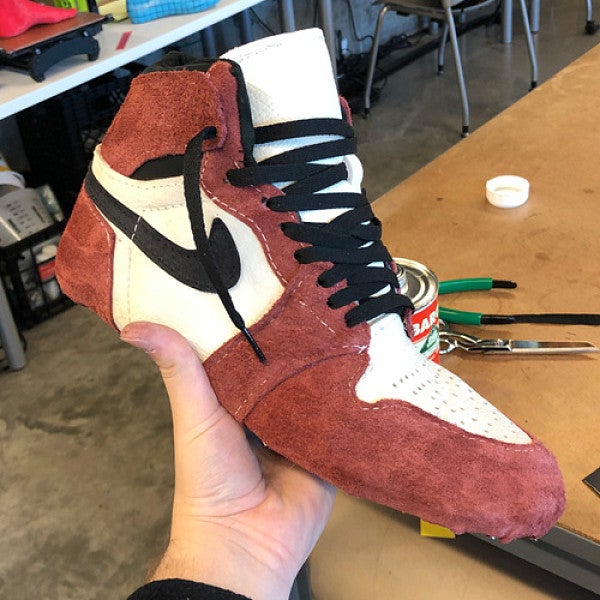 ---
Andrew Lau
Design to Creation
From sketch to physical creation. Fully handmade upper set on Li-Ning tooling. I was inspired by classic silhouettes from New Balance, ASICS, and Nike throughout this design process. Check out my Instagram page for other footwear projects including personal designs and concepts inspired by Nike's FlyEase technology.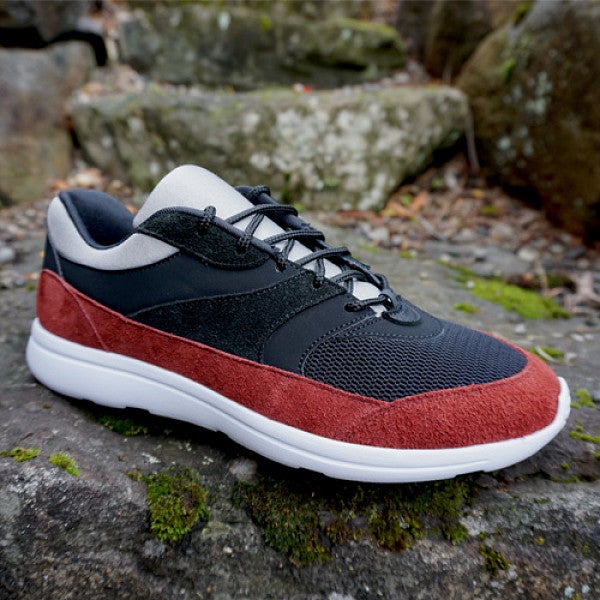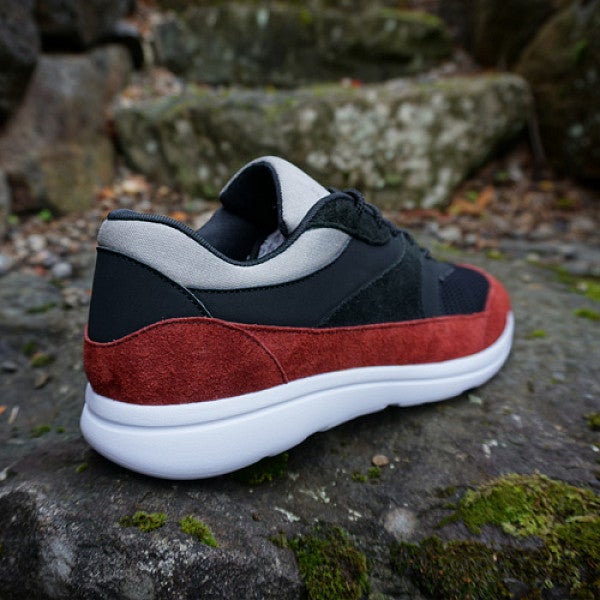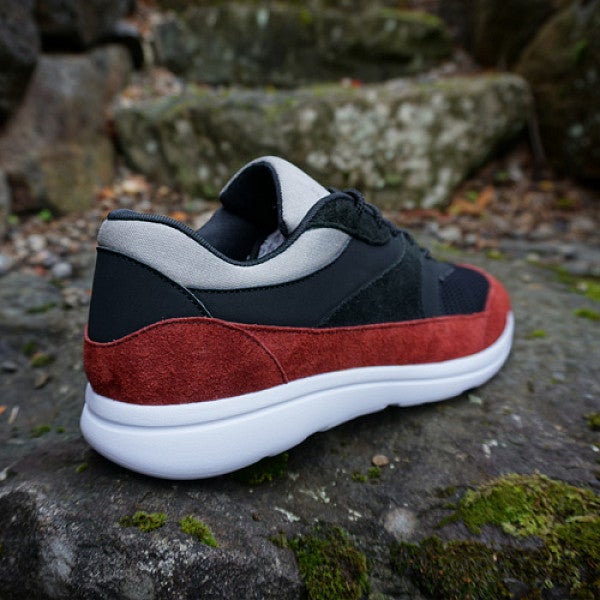 ---
Mike Love
My Pleasure
The My Pleasure is an Air Force 1 inspired by Chick-Fil-A, the fast-food restaurant. The shoe pays tribute to the colors of the restaurant and their lovable cows. I had a blast with this shoe by utilizing faux cowhide around the mudguard, heel, and on the tongue. I made the medial and lateral side opposites, playing with the swoosh and middle panel colors. Lastly, I added character to the shoe by placing the Chick-Fil-A logo and the Nike Swoosh on the heel overlay. On the tongue tab, I paid homage to the cows preaching "Eat Mor Chiken."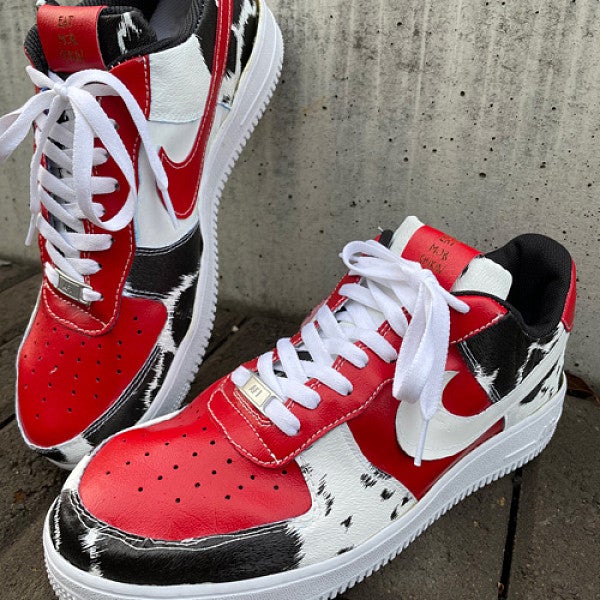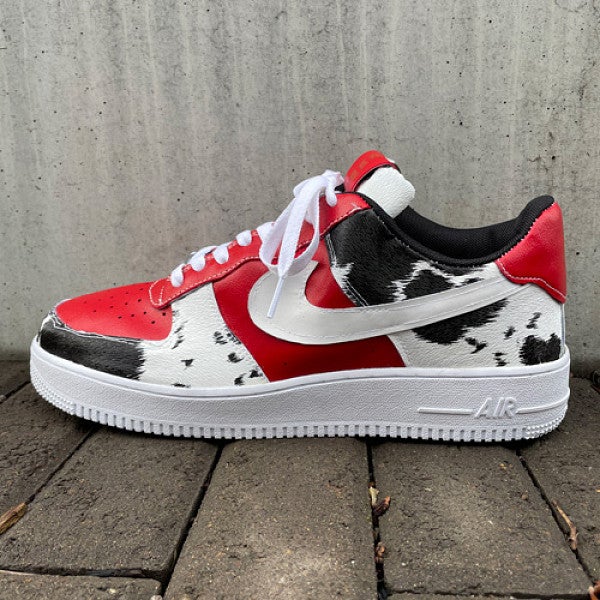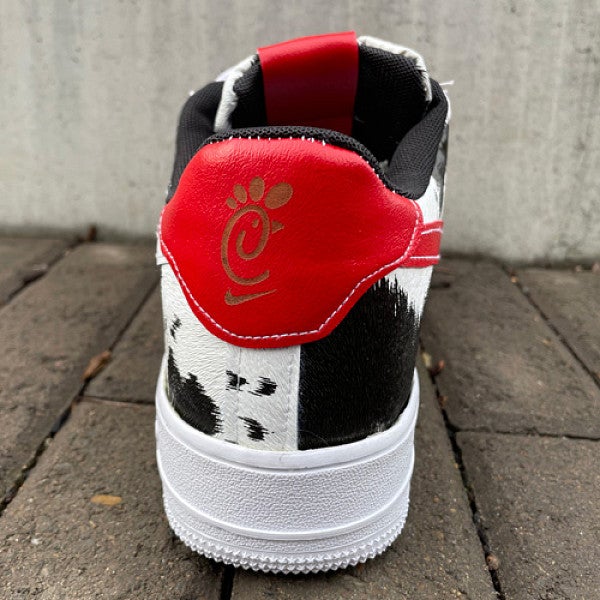 ---
So Tauch
Commuter Jacket
This concept focuses on the future of fashion, convenience, transportation, and commuting. This idea is rooted in combining the technical aspect of an everyday jacket with the functionality of an everyday backpack. In the future, convenience will be a lifestyle trend among consumers and the fashion and apparel industry will soon reflect this. Consumers spend a lot of time reaching for belongings because they are required to stop and take off their backpack entirely, open their zippers, and then put their pack back on. With this step toward innovative design, the backpack can easily slide down the consumer's back and attach to the jacket without any unnecessary stoppage.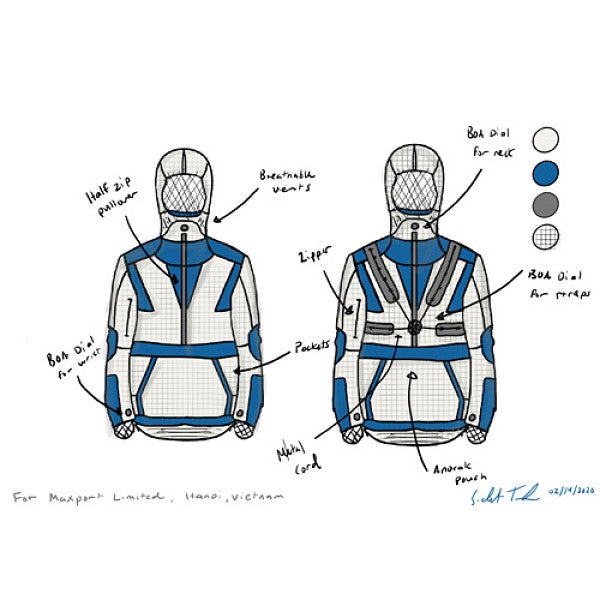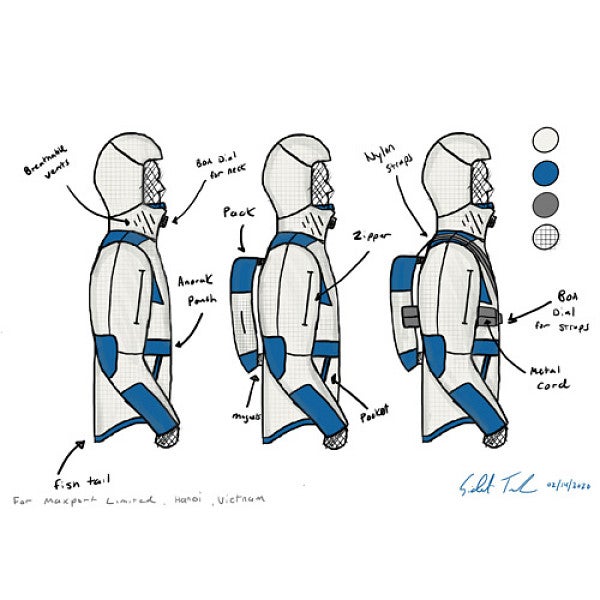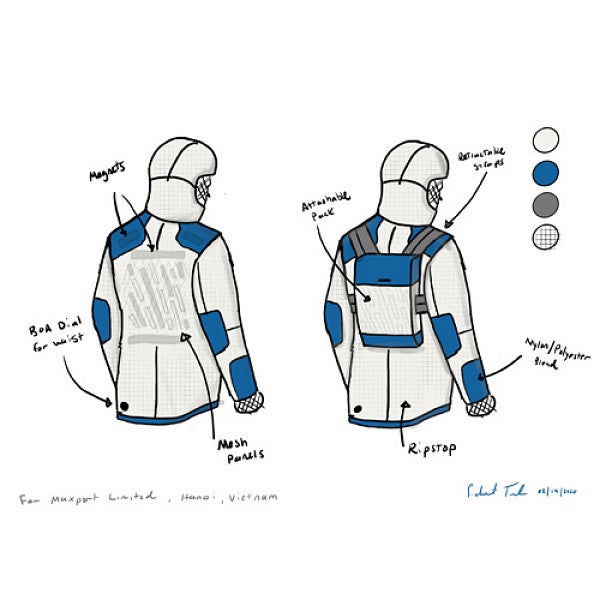 Internship Projects
Students complete an industry internship that immerses them in a sports or outdoor product company in the United States or abroad. Occasionally students work on their own projects in connection to their internships.
Argentum Texil Internship Team
Motorcycle Jacket
Students working for Mexico-based textile company Argentum Texil were tasked with researching innovative protective materials and designing and developing a garment sample that could not only protect the motorcycle rider through zonal protection, but also construct a garment that was safe, secure, stylish, fashionable, and breathable.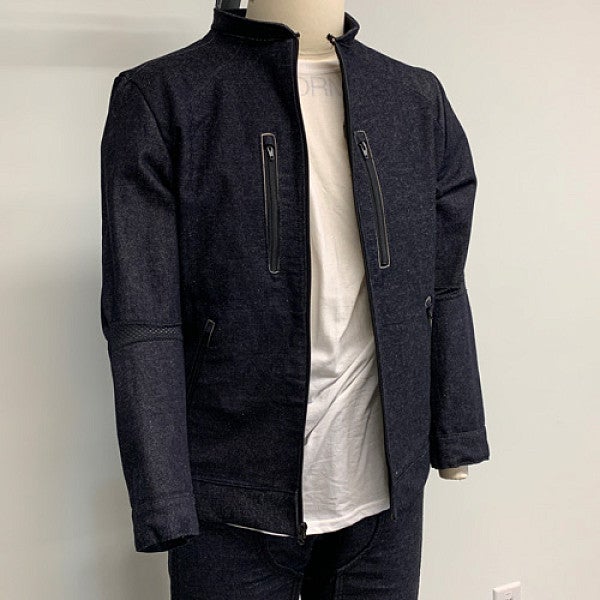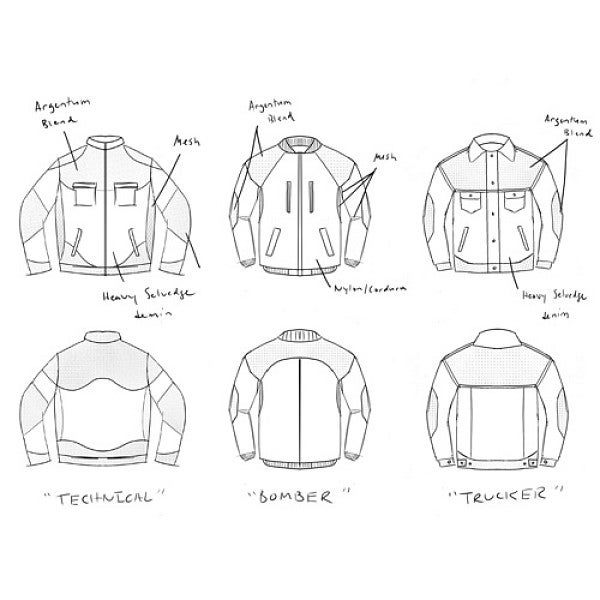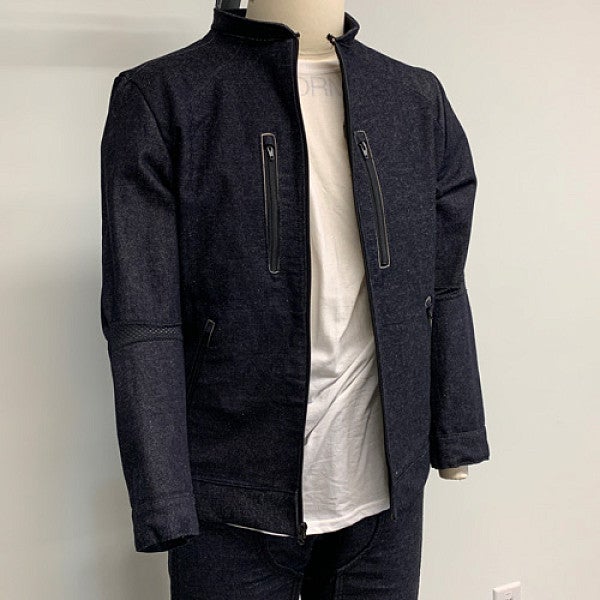 Team Projects
While in the Sports Product Management master's program, students are strategically placed into diverse teams to create an innovative product to solve a problem they see in the marketplace. Below you will see a few of the teams and the products they developed during their first year in the program.
Team Friction Skate Co.
The Coefficient
The Coefficient is a skate shoe with a focus on sustainability through durability. "After a year of work both inside and outside the classroom, The Coefficient came to life," said team member Kenta Araki. To say that I am proud of this team and all that we've accomplished throughout this past year would be an understatement. At times, it seemed like we were never going to get a finished product, but we picked each other up and kept moving forward, and I think that's what makes this more than just a shoe to me. To me, this shoe not only physically represents everything I've been learning in the master's program, but it also shows that with enough resilience, a team can accomplish anything they set their mind to. It's been a crazy journey, and while we're far from done, I really appreciate the work we've all put into this product." The product is currently being wear tested among consumers and is in the design patent stage.
---
Team Intencity
The CMTR 1.0
Team Intencity, created a running backpack hybrid for the run commuters out there. This backpack is spacious enough to allow the run commuter to put everything they need for work inside, while also providing them with a secure lockdown to their body with 12 points of adjustment. The run commuter can head to work every day knowing they'll be able to pack everything they need for the day, while also logging miles to and from work comfortably. Tune in as team members discuss the creation process and offer insights into their experience while creating an innovative product.
---
Team Lux
Senko Anorak
Team Lux combined both street style and performance into a stylish anorak known as the Senko Anorak. Using strategic color-blocking, reflective elements, and a stylish design, runners can wear the product knowing they will not only look good but also stay safe on the road and be seen by cars in all conditions. Tune in as the team members discuss the creation process and offer insights into their experience while creating their integrative product project.
---
Team Shuttle
The Endeavor
Team Shuttle set out to make it easier for the commuter's journey between work and working out. Their product, The Endeavor, helps the consumer efficiently pack the necessities into a packing sleeve that slips in and out of the bag they take with them to work, all while taking up as little space as possible in the bag. Tune in to gain insights into the creative process Team Shuttle experienced check out the video.
---
Team Squatch Gear
The Squatch Suit
The Squatch Suit is a three-piece integrated sleeping suit keeping you warm in various conditions. The design consists of a jacket, pant, and booties—each working together to provide comfort when outdoors and granting freedom of movement while sleeping. The pieces can also be used as individual garments. Being separate pieces also allows for both genders to conveniently use the bathroom. The jacket and pant each pack into a bootie. The jersey knit lining provides greater better skin-feel than nylon. The suit has strategically placed insulation with greater fill in the core than the arms and legs. This is a functional and fashionable sleep suit you can't wait to wake up in!