The 2019 edition of UO Business: The Magazine is now online.
In this issue, you'll read stories showcasing the college's reputation for green business as well as entrepreneurship. Highlights include student startups featured in Inc. magazine, a new baby car seat primed to disrupt the market, and a student project focused on analyzing real estate investments in opportunity zones.
Plus, we showcase our award-winning faculty and their groundbreaking research on cryptocurrency, bike sharing, local food, and entrepreneurship.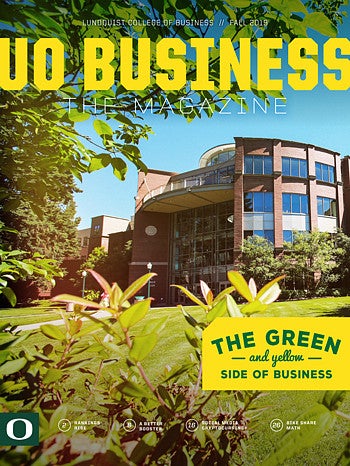 ---
Contents
Message from the Dean
Points of Pride
Features
Spirit of Innovation
WayB on Board
Sustainable Business Minor
Upcycling UO Uniforms
Seeking Opportunity
Frameworks for Success
Power Consulting
A Community-Focused Social Media Platform Fueled by Its Own Cryptocurrency
Business and Sustainability in Fiji and New Zealand
Fantastic Plastic
Faculty
Honors and Accolades
2019 Thomas C. Stewart Distinguished Professor: Kyle Peterson
Research
What Motivates You to Change Your Behavior?
An Ancient Spin on Digital Currency
Modeling Bike Share
Job Prospects of Former Startup Founders
Alumni
Giving
Face of the Future
Carving His Own Path: Braxton Williams '19