The 2020 edition of UO Business: The Magazine is now online.
In this issue, you'll read stories about Ducks supporting Ducks and soaring to new heights academically and professionally as we move FORWARD. Inside, learn how an alumni startup is boosting small businesses during the pandemic, executive MBAs are shining a light on new approaches to the region's healthcare issues, and students are learning and networking virtually while taking on consulting projects to help make our community better.
Plus, see how our resilient faculty are joining forces with business and government leaders to help advance the state and region.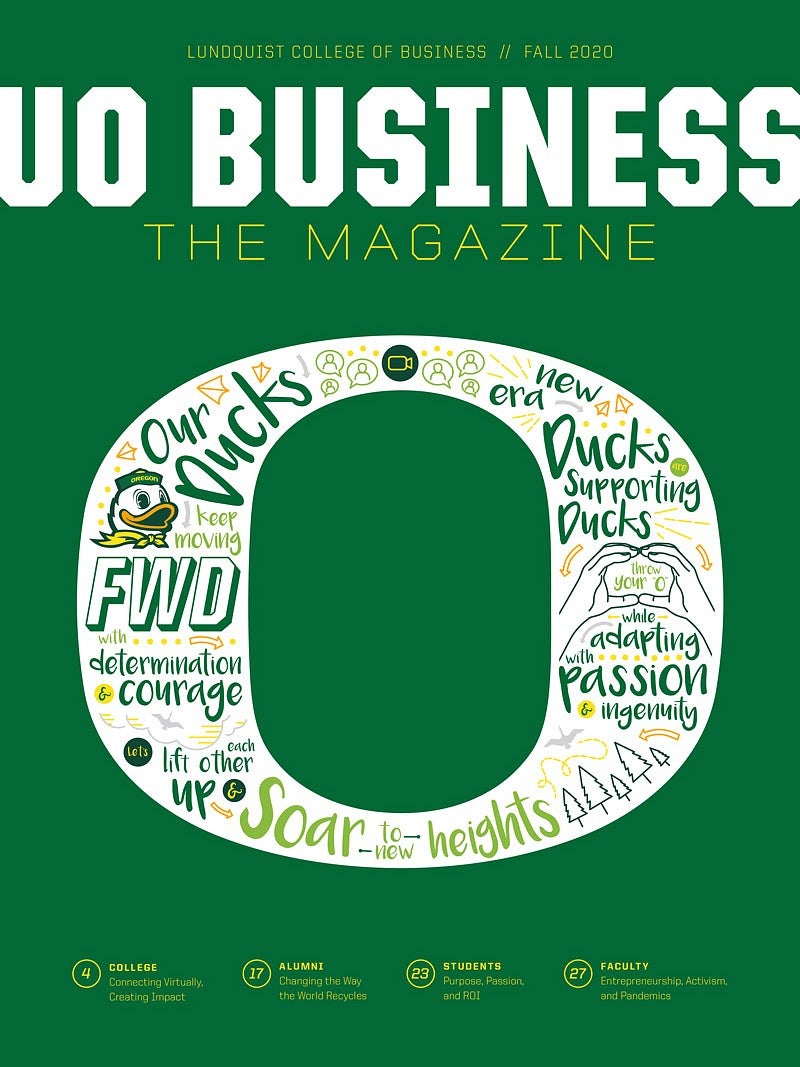 ---
Contents
Message from the Dean
A Few Words from the Class of '20
Features
A Few Words from the Class of '20
Pivot
Support Now, Adventure Later
Ducks Disrupt Health Care
The Table is Set
Getting Entrepreneurial While Apart
Warsaw Watch WNBA Draft Party
Safer Sharing
Building a Better Bicycle, Virtually
A Move Toward Success
Startup Gets (De)Funky
Lithium Powered Startup
For esports, the Time is Now
Inspiring Change Through Innovation
Strategy in a Time of Uncertainty
Executive MBA Journeys
Purpose, Passion, and Career Advancement
Oregon's Recovery Playbook
Research
Overcoming Barriers to Entrepreneurship
Risks, Rewards of Corporate Activism
How Healthcare Workers Can Stay the Course During a Pandemic
Job Prospects of Former Startup Founders
Faculty
Top Honors for Lundquist Faculty
Honors and Accolades
2020 Stewart Distinguished Faculty Award: Dane Christensen
Alumni and Donors
In Memoriam
Committed to Community
Our Strategic Vision