Like a longtime Duck to water—Dean Blonigen is making a splash.
Plus, our world-class students played a key role in bringing an international sports championship to life; Lundquist College faculty are changing the way business is done with groundbreaking research; Duck-created products make their way to the Olympics and into Ben and Jerry's ice cream; and Gwen and Chuck Lillis take a bow as a grateful campus looks to what's next.
You will find all this and ore in the 2022 edition of UO Business: The Magazine.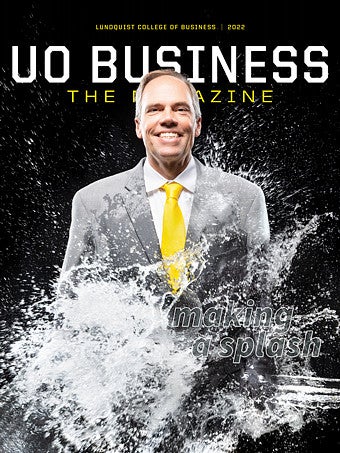 ---
Contents
Message from the Dean
Features
Thank You Gwen and Chuck Lillis
Jump Right in
15 Students, One World
World Class in Sports Business
Creating for Olympians
Accounting Students Offer Tax Help to Community
Students
Faculty and Research
Uncharted Waters
Oregonians Will Save if They Can Afford It
Faculty Notes
The Global Sports Industry
Meet Lauren Lanahan
Full Circle Teaching
Alumni
Making Waves
Duck Helps Bring Flavor Back
Rising Star
Elements of Strategy