The summer edition of UO Business: The Magazine is now online.
In this issue, we celebrate some outstanding student accomplishments in entrepreneurship, case competitions, and product development.
Lundquist College faculty members share their research on consumer behavior, the implications of tax avoidance and firm risk, private equity and restaurants, and sports product supply chain.
Of course, we are nothing without our alumni. A major gift from Nancy and Dave Petrone '66, MBA '68, as well as an incredible alumni-filled drone management software company, are explained.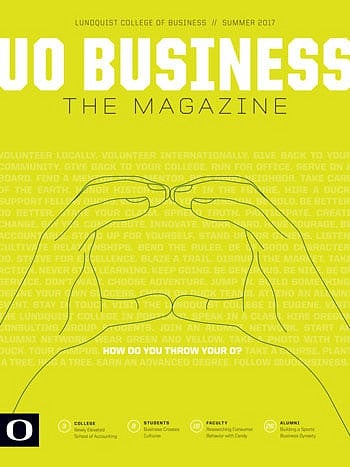 ---
Contents
Message from the Dean
College
Newly Elevated School of Accounting
Students
SPM Students Unleash Creativity in Innovation Lab
Peak Concept
Warsaw Center Team Wins National Competition
Faculty
Jelly Beans, Music, and Consumer Behavior
Do Low Taxes Equal Risky Management?
Sports Products Supply Chain Research
Private Equity and Restaurants
Alumni
Building a Sports Business Dynasty
Drones Go Skyward