In this guest conversation episode, Molly Malone defines professionalism as a refined sense of tenacity. She discusses the power of the B student and speaks about how to set the tone in an interview and the office. Host Troy Campbell adds some perspectives from his time as a Disney Imagineer, including how to tell your own Disney Destiny Story, and editor Alec Cowan explains how to pull off the perfect handshake. Molly Malone is a board member at the Lundquist College of Business and a former vice president of sales for Kroger, with a lifetime of expertise in sales, leadership, and professionalism. Today, her passion is helping people find their way, build careers, and be professional.
What We Learned
A Sense of Tenacity
In Professionalism 1O1, Molly Malone taught us a lot about professionalism, from composure, to positivity, to communication. But one core component was behind each part of her message: you have to do everything with a sense of tenacity.
Tenacity is an attitude that says you will give it 100 percent whenever you are working. Tenacity is having the willpower to do a boring task with perfection and have the strength to make a pressured sale. It is all tenacity; it is all professionalism.
Tenacity might look different in different jobs, and host Troy Campbell talked about how professionalism looked differently on him as part of the creative team at Disney Imagineering than it did on guest Malone in high-pressure retail. But it is all the same concept.
Key Point: You Never Know When Your Resume Moments Are
Malone argued that one is always building their resume. There are no isolated, special moments or presentations in which a person impresses others or improves. It is the every moment.
When we put extra time and effort into our work, there is a high probability it will eventually be noticed. It may not immediately happen, but eventually the "resume" or "recommender" moment may happen to lead to a future job, opportunity, or promotion.
How this is done varies by situation. In a retail environment, it might be always folding with perfection. At school, it might be going to a professor's office hours extra prepared.
When we think of professionalism, we often think of it as being slick and smart. Malone explained that it is often about tenacious hard work. We maximize our success by treating each opportunity as a resume moment. Getting the job done.
101 Everywhere: Professional Tenacity
At Work … Do each task as if it is the most important task. Don't be lazy, but be tenacious.
In Romance … Show up on time or early, and show you are trying hard. Bring extra flowers, listen, help a significant other with their errands.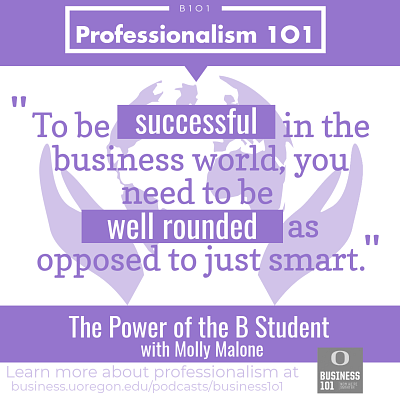 At School … If you are going to do a homework assignment, then do it with intention. Edit your essays extensively, and do the extra reading. And if you are too busy to do great on homework, then be great in class—always listening with intensity.
With Friends … Be reliable, and if your friend asks you for help, deliver more than what they asked for, whether that is food for the potluck, time you spend helping them move, or surprising them with their favorite food when they most need a pick-me-up.
With Fun Activities … Come prepared, having done research about the theme park, beach, club, or whatever the activity is, so you know how to deal with situations and any difficulties ahead of time. The professional knows how to get to the front row, how to dodge traffic, and how to get the deal.
The Power of the B Student
Molly Malone was always overwhelmed with school, family, and work, but she always gave her best. She always earned at least a solid B and became well-rounded, not just intelligent, through those struggles and experiences.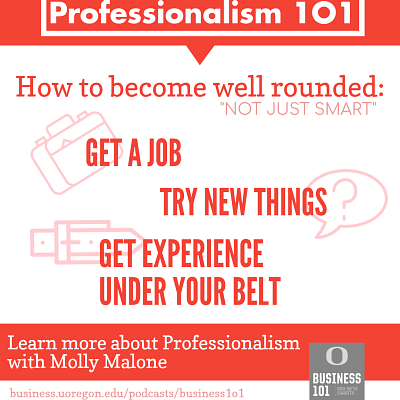 Malone is now a champion of the power of a B student. Along with many of her fellow former B students, she knows the B student can be quite amazing and successful.
Importantly, when Malone said B-Student, she did not mean a lazy genius who could achieve an A with a little more effort, but rather a consistently tenacious and busy person who always gives their best—or as host Troy calls it, "gives 100."
The Misconceptions
As always, our guest demystified the topic and corrected a lot of misconceptions. Here are four:
We think the interviewer controls the interview process, when actually your entrance and your tone can shape it quite a lot.
 
We think success is achieved by just thinking long-term and planning to get the glamorous dream job, when actually it is often produced by daily performances at often unglamorous tasks.
 
We think the dream job is the end point rather than a constant test of our talent.
 
We think we need to do a few great things, when actually we need to do weekly, if not daily, awesome things.
Quotes from the Episode
Along with some definitions, Molly Malone gave us some memorable quotes:
"To be really successful in the business world, you need to be well-rounded instead of just smart."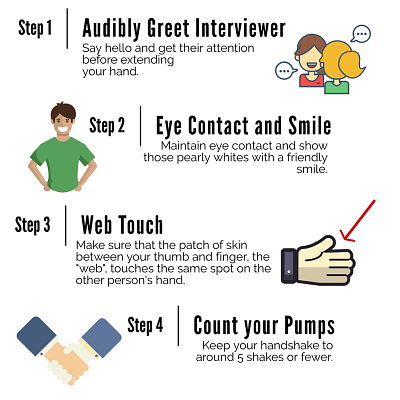 "I encourage kids, or young students who are working really hard, to do the best they can, and truly that, the best they can, and get through it, and get on with life."
"You could absolutely end up way more successful than your friend who started at Google. It's all about how hard you're going to work, and where you're going to go, and who your mentors are going to be, and what doors are going to be opened for you."
"It takes somebody with a lot of strength and a lot of character to sit across the table from the president of Levi's and get them to give you the money."
"Don't feel ashamed to start small."
Start an Interview: The Perfect Handshake
Professionals shake like professionals. That means they shake with firmness. Do not be overly strong, but shake with intention and make eye contact, as if to say, "You can count on me."
In general, Malone suggested, "Don't walk into an interview being sheepish or meek. Walk into the room, look the person in the eye, shake their hand, and act like you are there for a real reason, and that's to get the job."
Continue the Interview: Your Disney Destiny Story
Sometimes, we can't just show how great we are. We must explain our greatness and explain why we are right for the job we are applying for. Troy explained how to tell your story so that you can seem just right, if not destined, for the job you want.
End the Interview: One Last Question
When the interview is coming to an end, Malone said first, reiterate to the interviewer(s) that "you want the job, that it is your dream job, and that you would do anything to get this job. Well, maybe not anything, but you know what I mean." This reminds the interviewers(s) that you are serious about this position.
Second, ask them, "'Have I convinced you I am the person for the job? Have I convinced you that I'm the one you should make the job offer to?' Look them in the eye, say it, then shut up, and have them give you an answer back. Don't let them off the hook." Of course, you might want to say this softer or harder depending on the type of interview, but the general idea is to get the person to raise any of their concerns about you and to allow you to combat those concerns.
Molly Malone's Professionalism 1O1 Basics
Professional: Molly Malone
Position: Former Vice President of Retail at Fred Myer; Lundquist College of Business Board Member
Location: Lundquist College of Business
Teaching Style: Encourages students to pursue a variety of interests, become better, and always give it your best—instead of just striving for straight A's
Learning Goals: Learning how to build your career and appear more professional