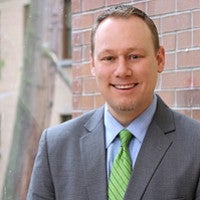 Greetings and happy (almost) spring. Today I wish to use this forum to introduce you to our new head of development. Since joining us in January, Senior Director of Development Kurt Zimmerman has immersed himself in "everything Lundquist"—from faculty and research funding to scholarships and travel support to experiential learning.
"It was fascinating," Zimmerman said of last month's Finance and Security Analysis Center IPO simulation led by Michael Grimes, head of global technology investment banking at Morgan Stanley and leader of IPOs for Expedia, Google, Groupon, LinkedIn, Pandora, and others. "It was so instantly practical to those students. He was so dynamic, and the students were keeping up with him, engaged, and getting a lot out of it."
Zimmerman comes to us fresh off a fifteen-year stint with UO Athletics, where he was a key facilitator in the Matthew Knight Arena project. He was also a major gift fundraiser during the UO's $853 million Campaign Oregon: Transforming Lives campaign, and he has worked closely with several members of the university's Board of Trustees and Lundquist College of Business's Board of Advisors.
All in the Family
Save for a few years in Portland, Zimmerman said he has spent nearly his entire life in college towns. "My dad Niel Zimmerman was a professor, dean, provost, and president at Eastern Washington University. In fact, he came out of retirement to serve as the dean of the business school there," he noted.
Here at the UO, Kurt's wife Kelly Zimmerman is the executive assistant to Jamie Moffitt, the UO's vice president for finance and administration and chief financial officer. Kurt and Kelly have a three-year-old daughter. Kurt also has a ten-year-old daughter.
A New Role
As the college's new chief fundraiser, Zimmerman will continue building relationships with donors, alumni, and friends of the college, as well as help launch new programs and initiatives.
"It's an exciting time for businesses and business education," said Zimmerman, "And at the Lundquist College of Business, I feel I am in a position to help move the entire university forward, especially as the UO gears up to launch a new campaign."
"I look at the Lundquist College's Honor Roll of Investors and see so much overlap between donors to athletics and donors to the business college. I get to see a lot of people I've worked with before, and it's a lot of fun for me," he added.
"I love to look around the Lillis Business Complex and see someone I've worked with for years has named a room or space. For football games, I have said for years 'Meet me under the Ron and Patricia Peterson Plaza sign at the east gate of Autzen." Now, I can do the same here."
Great Things Ahead
Zimmerman said he is also thrilled to be working with the college's dedicated and active Board of Advisors, led by Gwen Lillis, as well as the college's faculty and staff.
"The board and the great group of people at the Lundquist College--they all have amazing hearts, deep devotion, and fresh ideas," he said.
"I am particularly inspired by our Sports Product Management initiative." elaborated Zimmerman. "Like the Warsaw Sports Marketing Center, it is innovative and first of its kind. We are getting ready to do something no other university has done. We are set to be a global leader in sports product management research and education. Ellen Schmidt-Devlin and others are building something truly revolutionary."
And that is just one example of the inspiring activities and ideas Zimmerman said he sees taking place around the college.
"Every day I walk up through Dads" Gate and see the Lillis Business Complex and think about what an inspirational place this is. Interacting with the students is extremely fulfilling. Great faculty, great students, great programs—these are coming together for a profound impact on the business community and beyond," he said. "Our donors are so excited to be a part of what we are doing. I've had people tell me that giving to the UO is the best decision they have ever made. It's been one of the most meaningful things in their lives. In so many ways, the university opens up doors they didn't even know existed."
I hope you will join Kurt, myself, and the Lundquist College team as we enter this new phase of fundraising with new leadership, new opportunities, and fortified resolve.
Cordially,

Cornelis A. "Kees" de Kluyver
Dean and James and Shirley Rippey Distinguished Professor