Earning an MBA is never a solo effort—especially for the busy professionals enrolled in the Oregon Executive MBA in Portland.
Banning Hendriks, MBA '19, (left) always knew he was going to get a master's degree. His husband Chris Hamel (right) was with him every step of the way. Here's how Hendriks and Hamel made it work—and how the couple forged strong friendships and a vibrant professional network along the way.
From Atlanta to Portland—and a Big New Role
When Hendriks landed a position at Oregon Health and Science University (OHSU) in 2015, he and Hamel left Atlanta to make a new home in Portland, Oregon. A year later, OHSU named Hendriks its interim director of patient experience, a role that included overseeing a multimillion dollar budget and managing a staff of more than 100. When Hendriks decided to apply to make the interim role a permanent one, he knew he'd need an MBA.
"OHSU leaders were supportive and knew I was capable of taking the position, but they also wanted me to get my master's. That was the tipping point—taking this role and having the support of OHSU leaders who said they wanted me to go back and finish that part of my education," said Hendriks.
For his part, Hamel fully supported Hendriks's decision to pursue his MBA—and was pleasantly surprised to learn about the program's convenient twice-a-month schedule of Friday-Saturday classes.
"It was so much better than I thought it would be. Because Banning always had Sundays off and he always had some weekends," said Hamel.
Applying New Concepts in Real-Time
Once he started the program, Hendriks found he was immediately able to take what he was learning in the classroom and apply it to his work at OHSU.
"I was in the midst of revamping our department at the time and doing some reorg work with roles. At the same time, I going through a request for proposals for a new patient experience vendor—a process that was entirely new to me. All these pieces I had to complete in my job were things that I could draw upon from the classes, but also from the expertise of people in the cohort," said Hendriks.
Balancing Home, School, and Work
Starting in a busy and challenging new role at work and then adding a rigorous MBA program was a challenge, to be sure. But Hendriks used his high-level organizational skills to make it all manageable.
"I planned the work for each class well in advance. As soon as I received the syllabus, I would start mapping out what the deliverables looked like in terms of what was already on my calendar for work. Essentially, I was doing the same thing I would with any kind of project I have at work," said Hendriks.
Hendriks also made a point of keeping work and home strictly separate, going so far as to extend his days at the office by one or two hours in order to complete his schoolwork.
"When I get home, I'm ready to cook dinner and have some time with Chris and unwind. So I found it really helpful to do longer days," said Hendriks.
Knowing that the MBA program would take a significant chunk of Hendriks's time for 20 months, Hamel took on a larger share of the family's day-to-day household tasks.
"Someone in a master's degree program does not need to do laundry," said Hamel.
Creating New Friendships
But the MBA experience wasn't just about longer hours for Hendriks and a temporary increase in laundry duty for Hamel. It was also an opportunity for the couple to meet new people, make new friends, and create long-lasting connections in their new hometown of Portland. 
"When class was over, I wanted to spend my extra time with Chris, of course. But if the other students were getting together, then Chris was always invited," said Hendriks.
These early friendships deepened when Hamel accompanied Hendriks on the program's global trip to Fiji and New Zealand at the start of the class's second year.
Several years out from graduation, these relationships stay strong. During the pandemic, the couple formed a "pod" with one alumnus and his fiancée, seeing them nearly every weekend.
Expert Advice
When asked what he'd advise other couples considering the Oregon Executive MBA journey, Hamel keeps it simple and upbeat.
"Be ready to pick up some slack and understand your role in this investment. There is a real return for the couple, and I felt like a partner in it," said Hamel.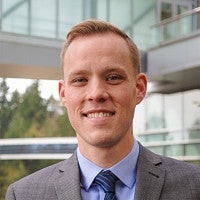 Forty under 40 Honors for Hendriks
In May 2022, Portland Business Journal recognized Hendriks as one of its annual Forty under 40 honorees for his crucial work at OHSU.
Read "Executive MBA Boasts Three Forty under 40 Honorees in 2022" for details about Hendriks's honor and the program's two other winners this year. 
---
Wondering if the Oregon Executive MBA is right for you? 
Book a Zoom chat or phone call with with Caitlin Biddulph, the Oregon Executive MBA's senior associate director of executive admissions.