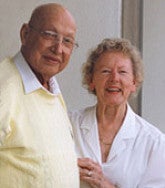 Braddock Tutoring is one of the nation's first BEST (Braddock Educational Success Team) programs—a model now implemented at many universities through the generosity of the Braddock Family Foundation.
Robert C. Braddock was born in Oregon in 1914 and raised there, graduating from the University of Oregon's Lundquist College of Business in 1937. He was a scholar athlete who represented the university in basketball and football. Later in life Bob became a respected trustee of the university.
Shortly after the outbreak of World War II he was commissioned in the United States Navy and served in the Pacific until the end of hostilities in 1945. Following his discharge he became a partner in Braddock, Logan and Valley, launching a long and successful career developing property and building homes in the San Francisco Bay area.
Braddock never forgot his modest beginnings and the people in his life who assisted him and provided the moral and spiritual inspiration that enabled him in his significant achievements. Towards the end of his life, he began to plan a way to thank those people and to do this he and Lois, his wife of more than fifty years, created the Robert C. and Lois Braddock Charitable Foundation.
Following his death in 1995, the foundation was formally established. Lois Braddock served as its president and their children, Cherie Keemar and Robert C. Braddock Jr., as directors.
One of the first actions taken by the foundation was to establish the BEST Program (Braddock Educational Success Team) at the University of Oregon's Lundquist College of Business. This innovative program provides tutoring and mentoring to any student seeking academic assistance. The model has also been successfully implemented at Embry Riddle Aeronautical University in Dayton Beach, Florida, where tutoring services have been targeted towards helping scholar athletes balance the rigors of academic achievement with representing their university in the athletic arena.
Braddock was described by his family and those who knew him as a man who achieved greatness without ever forgetting his humble beginnings. The Braddock Foundation is dedicated to helping people with special needs, to rewarding those efforts that deserve support, and to protect the environment that gave this athlete, sportsman, and outdoorsman so much joy.