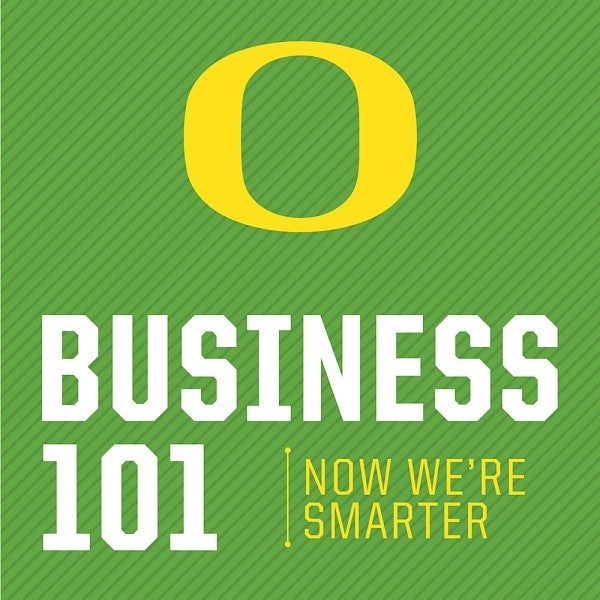 Welcome to Business 1O1, the podcast with the quest to understand the 1O1 of everything business and beyond.
Each episode dives into one 1O1 course—such as finance, negotiations, entrepreneurship, and journalism—to learn what it is, what it is not, and why it matters so much for our lives. Along the way, listeners get the feeling of being in the class, as well as a backstage view of academia, cutting-edge research, mini comedy sketches, vocabulary clarifications, and practical tips.
By the end of each episode, you'll be smarter as you've happily learned right along with our enthusiastic host Troy Campbell, and you'll be ready for the signature ending segment: "Now We're Smarter."
The Business 1O1 (pronounced "1 'Oh' 1") podcast is a play on the "101" term used for entry-level college courses (i.e., Physics 101, Econ 101), but with a uniquely Oregon twist (thus, the "O" for the zero in 101).
With the Business 1O1 podcast you'll join us on a journey that covers the basics, as well as the cutting edge of research, in a quest to understand the 1O1 of everything.
Produced by Troy Campbell
Edited by Alec Cowan
Subscribe
---
Episodes
Negotiations 1O1 with David Wagner
From sales, to date night, to politics--we are always negotiating. In this inaugural episode, UO professor of management David Wagner explains how this actually can be a great thing. Negotiations, he explains, are often about problem solving and discovery. We then dive into his negotiations class, which visits Starbucks and Chipotle as well as explores business hypotheticals and hardball tactics. Podcast editor Alec Cowan comes to the rescue to perform some vocabulary duty, explaining "3D negotiation." And host Troy Campbell brings in some psychology.
Prepare for an episode full of charm, hope, and education as we kick off Business 1O1. We promise you'll leave the podcast rushing to "source interests" in all your relationships, and you'll see immediately how when we understand the 1O1 of anything, we can better at everything!
---
Finance 1O1 with Al Sheen
The episode begins with a metaphor: "Finance is a grocery store." The financial system brings things together for convenience, but just like a grocery store, there are good and rotten deals. UO professor of finance Al Sheen also brings his "modern Socrates teaching method" to the podcast and throws host Troy Campbell off by asking a few Socratic questions. Sheen also shares how his time on Wall Street eventually led him to the classroom. Editor Alec Cowan dips in with some practical advice about "building a financial trampoline versus financial net."
---
Professionalism 1O1 with Molly Malone
In this guest conversation episode, Molly Malone defines professionalism as a refined sense of tenacity. She discusses the power of the B student and speaks about how to set the tone in an interview and the office. Host Troy Campbell adds some perspectives from his time as a Disney Imagineer, including how to tell your own Disney Destiny Story, and editor Alec Cowan explains how to pull off the perfect handshake.
Molly Malone is a board member at the Lundquist College of Business and a former vice president of sales for Kroger, with a lifetime of expertise in sales, leadership, and professionalism. Today, her passion is helping people find their way, build careers, and be professional.
---
Investing 1O1 with Stephen McKeon
This episode starts with the time value of money and quickly becomes an exploration of the time value of everything. As Professor Stephen McKeon takes us from his past working at a winery, to starting a drone company, and always choosing a happy versus wealthy life, the episode bounces between balances sheets and the purpose of life--and how the basics of all those scary words like stocks, bonds, and annuities aren't so scary. McKeon uses some wonderful examples to illustrate the concept of investing, including how to invest in outer space asteroid mining, judging a company by how risky the CEO is (hint: see if the CEO has pilot's license), and of course, cryptocurrencies--something that keeps getting him in the news constantly. As always, host Troy Campbell and editor Alec Cowan drop in some additional research and stories. The episode grows in complexity and subject matter as it progresses, but everything is always sewn together by the simple concept that a dollar today is worth more than a dollar tomorrow.
---
Academia and Business 1O1 with Roger Best
This episode is all about communicating and using knowledge. We explore the "invisible line" connecting academics and business together. Our guest is emeritus professor of marketing Roger Best, who shares his journey from an engineer to a groundbreaking marketing researcher, consultant, and teacher, including earning the American Marketing Association's best marketing professor in the nation award. Roger and his wife Robin also gifted $1 million to academic research and the Lundquist College of Business's PhD program. Host Troy Campbell adds to the conversation by noting a strategy for concisely communicating academic ideas, as well as explains the difference between applied and theoretical research. The episode is sure to leave you feeling more positive about your ability--and the world's ability--to use and communicate knowledge for the betterment of society.
---
Meet Your Host
Troy Campbell is a former University of Oregon marketing professor, multimedia wiz, and former Disney imagineer who seeks to combine entertainment with good learning principles. As a student, Troy wanted to take every 101 class in college. This podcast attempts to make that dream come true for Troy and everyone else, to help us all better think about the big world and our personal lives.
"Negotiations and marketing helps us think about communication and connection," explains Campbell. "Film and journalism teaches us to tell stories and how stories affect us. Finance helps us think about time. The list goes on. I truly believe, when we understand the 101 of anything, we better understand everything."